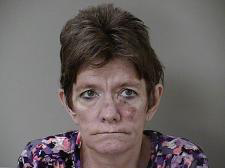 A Murfreesboro woman who was said to be involved in a total of two automobile crashes was arrested Thursday morning around 10:45 when it was found that she may have been using prescription drugs prior to driving.
51 Year old Cyndy Wright Morrell allegedly crashed her 2001 Cadillac on Memorial Boulevard twice and then leaving the scene of the first wreck, according to police.
The first crash occurred in front of the Kroger Store and the driver of the car that was hit told officers that Morrell was driving in the center turn lane at a high rate of speed. The victim, who was waiting in the center lane to turn, was struck nearly head on by Morrell. After Morrell reportedly left the scene of the wreck in her car that was still drivable, she struck a U.S. Postal Service truck causing injury to the driver.
Police arrived on the scene and noted that Morrell had bloodshot eyes, slurred speech and was unsteady on her feet. Police also noted that she seemed to be confused. According to the arrest report, "Ms. Morrell stated that she had consumed prescribed Somas, Oxycodone and Valium on today's date."
After failing a field sobriety test, Morrell was arrested and charged with her second DUI, Leaving the Scene of a Crash and Reckless Endangerment. She was also charged with driving on a revoked license when it was revealed that she failed to pay past fines.
As of Friday morning (3/18/16), Morrell has yet to make bond and is being housed at the Rutherford County Adult Detention Center in Murfreesboro. She is due in court this May.
Source:
MPD Arrest Report #16-5326