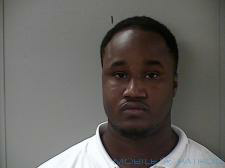 Around 7:45 Sunday morning, a woman at the Vie Apartments on Wenlon Drive in Murfreesboro called the police when a man in her bedroom awoke her.
The police report stated, "[The victim] was asleep in her bed and when she woke up there was a black male dressed in all white standing in her room. She advised that she yelled WHAT ARE YOU DOING? She stated the male subject ran out of the apartment."
Murfreesboro Police then heard someone walking up the stairs outside the apartment unit. The woman caught a glimpse of the subject and proclaimed, "That's Him, That's Him!" The man was sweating profusely and wearing the same clothing as described by the victim. Police identified him as Justin Williams.
Around the time that police and the victim located Williams, another call came into dispatch. The second call was also a female who reported that while she was sleeping, the same subject came into her bedroom and started fondling her. When the second victim awoke, the man fled the apartment, which is when police saw him.
Williams was transported to the police department for further questioning and he asked for a lawyer. A search warrant was then obtained for the suspects cellphone.
26 Year old Williams was then charged with two counts of aggravated burglary and one count of sexual battery. It was also found that he had an attachment order for failing to pay child support.
Williams remains behind bars at this time. His bond was set at $31,000.
Source:
MPD Arrest 16-13874