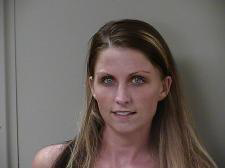 A Manchester woman who was pulled over in Murfreesboro for failing to maintain her lane of travel was arrested. 26 Year old Megan Nicole Gordon was stopped on North Rutherford Blvd. at Lascassas Pike.
An arrest report filed by Officer Ledford with the MPD stated, "Ms. Gordon admitted to taking prescription medications and stated she was texting while driving." A license check then showed that her driving privileges had been revoked and she was charged three prior times with "Driving on a Revoked License." The most recent stop equaled a charge of "Driving on a Revoked License" for the fourth time.
Gordon gave Officer Ledford permission to search her car where 10 Oxycodone pills were found along with 22 Subutex (buprenorphine). Evidently, the woman told police the Subutex was hers, but the Oxycodone was not.
The female later gave police permission to search her phone where they found multiple text messages indicating drug sales. The MPD officer wrote, "Ms. Gordon was selling the Oxycodone 7.5mg for $7 and "Subs" or buprenorphine for $35 a piece."
The phone and the pills were placed into evidence and Gordon was placed behind bars. Gordon was charged with the sale of a Schedule Two drug and the sale of a Schedule Three drug. She was also charged for the fourth time for Driving on a Revoked License.
Gordon is currently free on bond and due in court this July.
About the Drugs in Question:
According to the Drug Free Partnership for Kids, buprenorphine poses a high risk for addiction and dependence. The drug can also cause respiratory distress and death when taken in high doses or when combined with other substances, especially alcohol.
However, the drug can also treat pain as well as addiction to narcotic pain relievers when used correctly under the order of a doctor.
Oxycodone is an opioid pain medication that is used to treat moderate to severe pain. Oxycodone can slow or stop your breathing, especially when you start using this medicine or whenever your dose is changed, according to Drugs.com. The drug is also highly habit forming.
Dangerous side effects or death can occur when alcohol is combined with oxycodone.
Source:
MPD Arrest Report 16-9521