Rutherford County, TN—Shortly before midnight on June 17, 2020, Rosemary Faulk, a Rutherford County employee, was asleep in her Yeargan Road home when her dog "Prissy" woke her barking.

A startled Faulk arose quickly, and thinking someone was trying to break into her home, began walking through the house toward her garage with Prissy in hand. Her two other pets, a dog named "Max" and a cat named "Wiggles", were nowhere to be seen. They had obviously heard the commotion and hid. Though she smelled smoke, it did not occur to her initially that there was a fire.

Rosemary continued to look for her two missing animals until she saw fire coming through the door. Reluctantly leaving Max and Wiggles behind, she and Prissy headed outside to safety.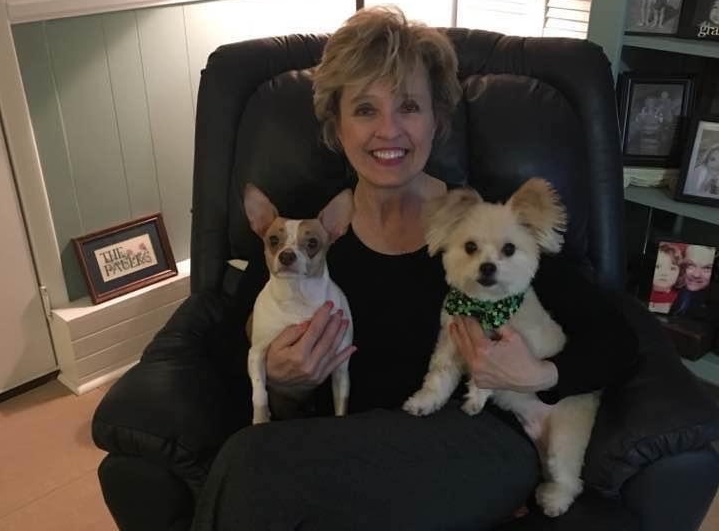 When she got outside, Rosemary called 9-1-1. She was still wrestling with the decision of whether or not to go back in to find Max and Wiggles, but neighbors and the dispatcher on the phone advised that it was not a good idea. "I still thought I had some time," Faulk recalled.

Fortunately, she ultimately decided not to reenter because shortly after exiting her home, there was a huge explosion. Faulk later discovered that it was one of two vehicles housed in the garage. After the explosion, the fire escalated and came through the roof, heading toward the attic. "After the explosion, it just took off from there," she said.

Her neighbors across the street had a Ring doorbell camera that was triggered by the blast. Footage shows the fire growing quickly and the prompt arrival of Rutherford County Fire Rescue units.

"I was so incredibly impressed with their fast response," said Faulk. Though crews were not able to save her home, their speedy actions salvaged several items including her furniture. "Once they extinguished the fire, they went back in to look for my animals."

Wiggles succumbed to the smoke and fire crews found Max unconscious. "He was in a place that he would normally never hide," Faulk commented. "They found him, started CPR, and then applied a pet rescue breathing mask," she continued. Faulk said her pup was then taken to River Rock Animal Hospital where he spent a week. "We weren't sure if he would make it, but miraculously he did." Today, Max is doing great!

An extremely grateful Faulk wanted to do something to show her appreciation for the crews that saved her sweet Max's life and for extinguishing the fire before it did more significant damage. "Chief Farley told me that first responders don't do it for the praise, but I wanted to do something nice for them anyway."

Faulk took a meal out to the station that responded to the call and included a special "Thank you" card from Max, complete with his "stamp" of approval (AKA pawprint). Faulk plans to continue the show of appreciation by reaching out to the other responding stations as well.

"I just cannot say it enough what a superb job these firefighters did. I was so proud of their compassion toward me and Max. They truly went above and beyond their call of duty," she said.

"It's true that we do not do this for the praise," said Chief Larry Farley. "We do it because it's the job we signed up for, and we have a passion for serving the citizens of this great County." Farley continued, "We thank Ms. Faulk for her thoughtfulness, and we are so glad that Max is thriving and are proud we had a part in that."

Ring doorbell footage from nearby: