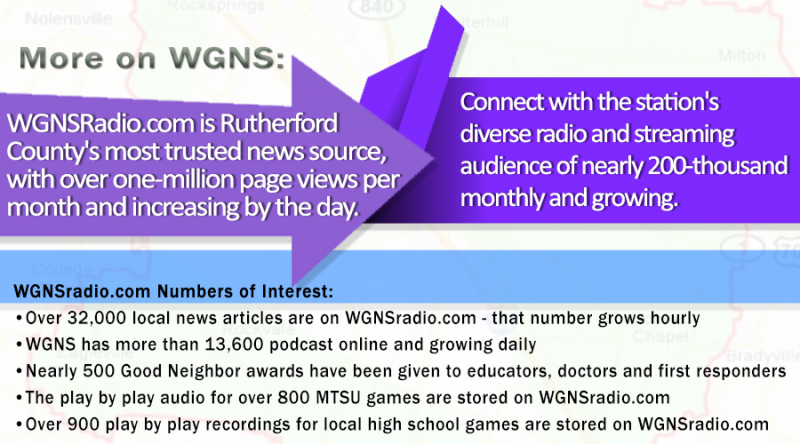 CLICK HERE to meet the WGNS Radio and Internet Sales Team (Contact Info and Profiles)
Traditional WGNS On-Air Advertising, One of the Most Popular Places to Be in Rutherford County:
(For internet information scroll down) WGNS has been building a local audience in Rutherford County since 1947. The Good Neighbor Station is known for providing the community with local news, sports and weather. WGNS is the home for high school sports, MTSU football and basketball and has aired Braves baseball since 1982.
Today, the WGNS listening audience is 200,000 and growing (these are traditional "on-air" listener numbers and internet listeners). Our audience is based in Rutherford County (population 330,000+). These listeners are hearing your ad over and over again daily. That amounts to over 400,000 "impressions of listeners hearing your ad" weekly if your ad airs five days per week. Monthly, listeners would hear your ad 1-million + times (combined totals of traditional on air and online listeners weekly and daily). Radio "terms" and typical wording of media information is below our contact information on this page.
Our programming targets persons between the ages of 35 and 55. Our listeners are divided nearly equal between males and females. According to past research, the majority of our audience owns their own home. WGNS also boast one of the most educated audiences in Rutherford County. The WGNS talk radio format is all about local news and information, which equals an audience that cares about the community they call home. That same audience not only cares about their community, they want to support their community which means they shop local.
WGNS has lots of history:
Why is radio "SO GOOD for ADVERTISERS"?
According to the Radio Advertising Bureau, 94% of adults aged 25 and older (both men and women), listen to radio weekly. Although not the typical audience for WGNS, 92% of persons 12 or older listen to radio weekly. Also of interesting note, more than eight out of ten Americans feel listening to commercials in exchange for free radio is a "fair deal". Thus, radio advertising can be an effective, low-cost medium through which a business can reach their target consumer.
Studies show that radio ads create emotional reactions in listeners. In turn, consumers perceive the ads as more relevant to them personally, which can lead to increased market awareness and sales for businesses running ad schedules. Twenty-five percent of listeners say they're more interested in a product or business when they hear about it on their preferred station.
Radio is the most accessible media:
According to Advameg Inc., there are over 575 million radio receivers in the United States. When you factor in cell phones, wireless companies have an FM radio receiver in all smart phones as of the start of 2016, which add another 896 million radio sources in the United States.
Even though computers and televisions are extremely popular and will continue to be, radio still remains the most common and most accessible form of media today.
On a side note, there are only 11,293 commercial AM and FM radio stations in the United States.
What does the Radio Advertising Bureau Report on Radio? Click Here to see Radio Advertising Research...
Who can Advertise on WGNS:

Anyone can advertise on WGNS RADIO! For the best prices and best options customized to fit the needs of your business, see our advertising experts - CLICK HERE to see their contact information today.
When you advertise on WGNS, your commercial will be heard on FM 100.5, FM 101.9 and AM 1450. The commercials you invest in will also be heard on our streaming audio apps and pages. More on our internet listeners below.
---
WGNS Has a Strong Internet Base:
Advertise on the WGNSradio.com website or on the air today (see WGNS statistics below). For the best prices and best options customized to fit the needs of your business, see our advertising experts - CLICK HERE to see their contact information today.
WGNS Internet Statistics:
WGNSradio.com visits continue to grow. According to the numbers from host company Bondware.com, WGNS consistently has over 800,000 unique visitors.
Traditional WGNS Listeners:
Since 1947, WGNS has been building our local audience with news, sports, weather, traffic updates and interviews. Since that time, our audience on both the FM and AM dial has grown, while maintaining our constant loyal listener base.

WGNS estimates a minimum of 50,000 listeners weekly. If those 50,000 listeners tune in once in the morning, a second time when they head to lunch and a third time on their drive home, that equals 50,000 LOCAL listeners tuning into the station 3-times per day (Mon. – Fri.), or 150,000 listener sessions weekly (600,000 listeners sessions every 4-weeks).
Online Listernership Numbers:

WGNS has over 320,000 streaming "listener sessions" monthly (Listen to our "LIVE" Stream HERE).

As an example, between March 11, 2022 and April 10, 2022, there were 320,522 listening sessions. This means that listeners tuned-in to listen to WGNS Broadcasts 320,522 times between 03/11/2022 and 04/10/2022.

Keep in mind, those numbers do not include traditional AM and FM radio listeners or those who listened to WGNS through a large assortment of apps outside of WGNSradio.com. Some of those apps include Streema, SecureNetSystem, OnlineRadioBox, Radio.net, FMradioFree, and more! While we can't get exact numbers on a monthly basis, we estimate that 100,000 additional listener sessions monthly, which means our audience tunes to WGNS online over 420,000 times each month.
Internet Wording and definitions:
"Impression"
- An advertisement's appearance on an accessed web page... For example, if the page you're on shows your ad, that's one impression. Advertisers use impressions to measure the number of views their ads receive, and publishers often sell ad space according to impressions. Impressions are tracked in a log maintained by a site server and are often sold on a cost per thousand (CPM) basis OR a monthly basis with a guarantee of reaching up to X amount impressions.
Impressions are how often your ad was seen. It could have been seen by the same internet surfer multiple times, which is a good thing. Keep in mind you want to be repetitive in your advertising.
"Visits" - Visits are normally equivalent to visitors. Think of it as the number of different people (different IP) that visits the web page. These are not "Hits." Hits add up to over 10-million monthly. Visits or visitors are the most essential numbers of all, when it comes to determine the traffic of a specific site.
WGNSRadio.com is Rutherford County's most trusted news source, with over one-million page views per month and increasing by the day.
Why is the number of "visits" and "impressions" so different? Simple: Your ad was seen multiple times by the same visitors thus increasing the number of impressions daily. Perhaps the same IP address visited the site on Monday and then returned on Tuesday, or the user saw your ad on the front page and then visited our news page and saw your ad a second time.
---
The simple question was asked to me by an out of town potential advertiser with a corporate store in Rutherford County... "I hear some stations highlight the fact that they are locally owned and not part of a corporate conglomerate, so what exactly is local radio?"
Fair question. My response...
• Local radio is made up of bake sales that a church is participating in to raise money for a mission trip.
• Local radio is helping someone who lost a dog find their beloved pet.
• Local radio is the announcement of the obituary of your long time neighbor who use to yell at you as a child for cutting through their yard.
• Local radio is your family doctor telling you about the need for a flu shot.
• Local radio is a lawyer from the Murfreesboro square giving you free advice when you call in to our studio.
• Local radio is the promotion of a fundraiser for Read To Succeed, Special Kids or the United Way.
• Local radio is hearing your son or daughter hit the home-run in our weekly high school game broadcast, we even recorded the game for you to hear later.
• Local radio is the broadcast of MTSU Football or basketball.
• Local radio is your warning system when a tornado is about to touchdown.
• Local radio is your connection to your family when the phone lines are down and you visit the station to announce that you are okay.
• Local radio is where you find out who is hiring when you are in need of a career change, by the way - you got it!
• Local radio is how you found out about the thief on your street or the burglar in your neighborhood.
• Local radio is where you learned about your favorite new restaurant where you plan to take your wife for her anniversary.
• Local radio is where you heard about that Mustang you always wanted and how it's on sale right now.
• Local radio informed you about a zoning change that will impact your subdivision, luckily you listed your house with a Realtor just in time.
• Local radio is how you learned that the county has decided to raise property taxes.
• Local radio is where you learned about the death of John F. Kennedy, John Lennon, Elvis Presley, Ronald Reagan, Michael Jackson and Whitney Houston.
• Local radio informed you about the road that would be closed today because of construction.
• Local radio is where you learned about donation drop off points for victims of the Oklahoma tornado - "smile," you donated and are helping someone rebuild their life.
• Local radio was THE ONLY connection for those devastated by the Oklahoma tornadoes, family members of those affected by the 9-11 terrorist attacks, Hurricane Katrina, etc. when all phone lines, cell phone towers and internet (cable lines) were non-operational and people did not have power to pick up TV. All they had was LOCAL RADIO.

• Local radio told you about the election results for county commission and city council.

• Local radio gives a birthday cake away everyday to one lucky winner and has since 1947.

• Local radio gives flowers away to one Good Neighbor of the Day, daily.

• Local radio told you about that wreck on the way into work, we saved you an extra 15-minutes by re-routing you.

• Local radio reminded you about setting your clocks back by an hour before you went to bed.

• Local radio told you about the grand opening of a new store, which is where you bought your sons back to school clothes.

• Local radio is who you call if you need a phone number.

• Local radio is where homeless persons turn for direction (as bizarre as that sounds, it just happened today).

• Local radio is where homeless persons turn for a blanket on cold nights (WGNS has collected blankets for the homeless for over 15-years).

• Local radio is where people drop off torn or weathered American flags to be properly disposed of.

• Local radio is where residents drop off old Bible's to be recycled and re-used in our community.

WGNS is local radio. Who would not want to be a part of that? -Scott Walker
---
Radio terms:
A Spot is a commercial announcement, usually :30-seconds or :60-seconds in length. WGNS also has :15-second commercials (when available). Your "spot" will air on FM 100.5, FM 101.9, AM 1450 and our streaming audio applications.
Drive-Time Commercials are the dayparts used in radio on WGNS to signify primary listening being done in cars. Generally considered to be Monday-Friday 6-10 a.m. and 3-7 p.m.
The WGNS Network - according to definition, this is two or more stations joined by a line to broadcast the same program from a few original studios simultaneously. In our case the WGNS network consists of FM 100.5, FM 101.9, AM 1450 and our streaming apps for iTunes, Android and at WGNSradio.com. Our network is a simulcast, meaning all frequencies broadcast the same program. This benefits the advertiser greatly. Listeners are able to find WGNS at multiple places on the dial and online. WGNS not only broadcasts via our own apps, you can also find up on apps like operated by Tune-In Radio, Shoutcast, Secure Net System's and more.
The R.O.S. Commercial schedule is a "broadcast schedule" where specific programs and air times have not been requested by the advertiser and the advertiser has commercials that air throughout the morning, day, evening or night hours. R.O.S. stands for Run Of Schedule or Run Of Station.
Strip scheduling is a very traditional way of advertising on the radio, it consists of a program scheduled at the same time each day, typically Monday-Friday.
Net Costs are advertising rates which do not include advertising agency commission and/or include discounts.
Gross Rates are advertising rates which include the advertising agency commission, usually 15% increase in rate unless a different or higher amount is specified by the ad agency
Political Rate is a station's lowest unit charge for a particular class and time period. The Federal Communications Commission (FCC) requires broadcasters to charge candidates no more per unit than the station charges its current lowest billing per spot rate advertiser for the same classes and amounts for the same time periods. Political rates take effect 45 days prior to a primary election and 60 days prior to a general election.
WGNS - Since 1947