(RUTHERFORD COUNTY) It's been a day filled with icy roads and weather challenges. A tractor trailer jack-knifed at 5:24PM Monday (2/15/2021) night while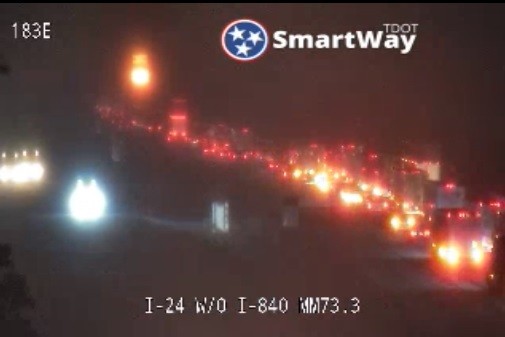 traveling toward Nashville on I-24.
I-24 westbound @ mm73
The accident occurred near where I-840 crosses over I-24. Emergency crews were so efficient that the lanes were cleared and traffic was back to as "normal as could be expected" in approximately an hour and a half.
The left lanes of I-24 were blocked while crews attempted to clear the roadway.
Eastbound traffic (toward Murfreesboro) was congested as well as motorists slowed to do a little rubbernecking.
(NOTE) This picture is from the TDOT traffic cams. The eastbound lanes are on the left, and you can see the rows of big rigs that were slowly making it past the jack-knifed rig at mile marker 73.
I-840 westbound @ Exit 74A
Almost exactly when crews finished reopening I-24, another incident occurred a snowball's throw from the earlier incident. This time it was a disabled vehicle attempting to move from I-840 westbound onto exit 74A. Two of the four lanes were blocked. The vehicle stalled at 6:42PM, but crews were free to then move to the next challenge.
.