How many of us have enjoyed the shade of the MASSIVE sycamore tree located on the east side of our Public Square?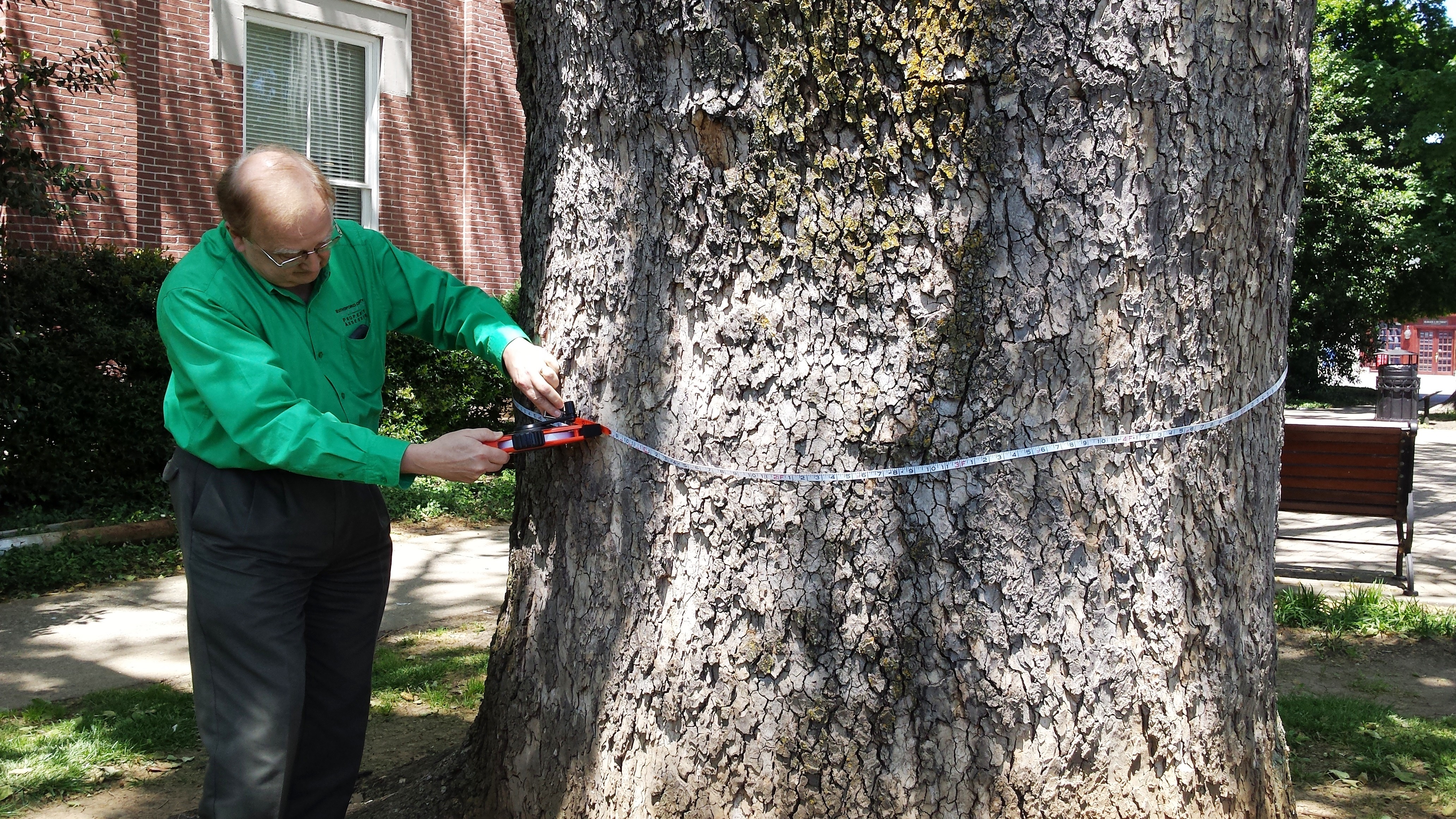 Did you know this tree was planted in 1859 when our Courthouse was just constructed?

How many of us sat in its shade? Listened to JazzFest? Enjoyed shopping at the Saturday Market on the Square (the Saturday Market opens this Saturday…). Perhaps in days gone by, you enjoyed Uncle Dave Macon Days, the whittling club and much, much more, all while benefitting from this grand old tree.

And get this - this astonishing tree predates our 1859 Courthouse!
In 2015, Rutherford County Assessor of Property Rob Mitchell – who also volunteers for the Rutherford County Historical Society - took the initiative to measure the girth of the huge Sycamore tree located on the east side of Rutherford County's historic Courthouse.
The tree was planted near the time the Courthouse opened – 1859. Rob Mitchell measured the girth at 16'9". Using the science of trigonometry, he determined height of this tree to be – are you ready – in excess of 90 feet! The tree spans more than 84 feet′.
This tree is one of four original trees donated to our 'new' Courthouse in 1859, by Alfred Miller. It is the only surviving tree of the four.

In 1859, Alfred Miller was a Murfreesboro City Alderman and very wealthy individual. Miller was appointed mayor of Murfreesboro during Federal occupation during the Civil War. Miller owned a plantation on the old Shelbyville Turnpike, present day Indian Hills Golf Course on South Church Street.
This majestic tree witnessed Federal occupation of Murfreesboro during the Civil War. It witness the famous July 13, 1862 liberation of Murfreesboro by the cavalry of Nathan Bedford Forrest.
This tree continues to witness hundreds of events, political stump speeches, religious revivals, demonstrations, weddings, funerals, General Douglass McArthur parade, horse drawn buggies and wagons, a Japanese submarine (yes, a Japanese submarine circled our Courthouse during World War II).
On March 20, 1913 this tree was an eye witness to an EF-3 tornado that missed this tree – and our Courthouse – by no more than fifty feet.
Enjoy this story and 2,000 other stories concerning Rutherford County history by visiting www.rutherfordtnhistory.org. And please give us a like on Facebook!