Did you there was once a commuter rail system in Murfreesboro?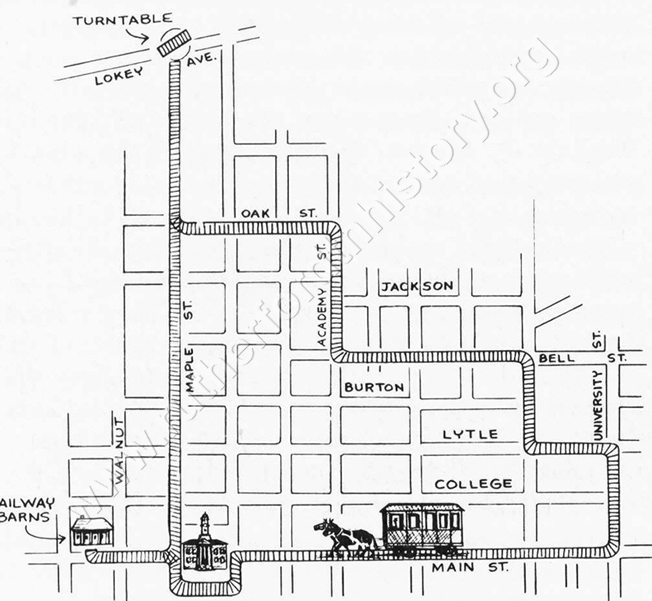 The Murfreesboro Street Railway was established in 1892. It consisted of eight cars, 24 mules, a garage and a barn (once located at the intersection of West Main Street and Lokey), and two miles of track. This venture was started by Pleasant Mason, Judge Bromfield Ridley and Thomas Fowler. Their total investment – in 1892 dollars = was about $65,000.
And, it lasted less than one year…

Pleasant Mason was a successful attorney. He owned an opera house on the west side of the Square which later was home to the original Princess Theater. More on the Princess theater next week…
Judge Bromfield Ridley was a Confederate veteran and attorney. Thomas Fowler was a businessman and former Circuit Court clerk.
From the garage on West Main and Lokey, just one block west of the historic Rutherford County Square, the tracks headed east; the eastbound traffic went the south of the Courthouse; westbound traffic circled to the north.
Tracks extended out East Main to the Union University property (present day Central Magnet School) where they turned north on what is now University Street. At the southeast corner of the old hospital property (the corner of University and Lytle), the mule-drawn cars turned west on Lytle street then went north on North Highland Ave.
From North Highland Ave., the tracks turned west on Bell Street and then turned north at the intersection of Bell and Academy Streets. At what was then known as Cow Alley (today's Oak Street), the mules headed west to Maple Street (aka Lebanon Pike at the time) where a turntable was installed at the intersection of Lokey and North Maple.
The rail cars ran for a year and "never was there a day when the income met the operating expense." The enterprise was a total loss and was abandoned on Jan. 1, 1894.
But, undaunted by their street car failure, Mason and Judge Ridley planned a railroad connecting Murfreesboro and Woodbury. They secured track right of way and property for sidings and stations. But the project was abandoned when prospective users and investors showed little interest. Mason also opened a soap factory in 1895 that produced only 10,000 pounds of soap before closing.
If you would like to see a map of the old Murfreesboro Street Railway, please visit our website at www.rutherfordtnhistory.org