MURFREESBORO, Tenn. – The 2021 Murfreesboro Half Marathon is scheduled to take place Saturday, October 9th with Ascension Saint Thomas Rutherford as the Title Sponsor. Registration opened on June 2nd, which was National Running Day.


Krista Dugosh, owner of Fleet Feet Sports in Murfreesboro and Mt. Juliet, told WGNS NEWS...
Fleet Feet's
training program
will help prepare participants for the October 9th half marathon.
There are 542-spots OPEN for runners to sign-up for the race, as of July 26th. That means that 958-people have already registered, because there is a participant cap of 1,500 total runners.
More Murfreesboro Half Marathon Details:

Dubbed "The Middle Half", the race route was changed in 2019 to include more of the MTSU campus. The course also includes the Oaklands Mansion, the Rutherford County Courthouse and historic square, and scenic tree-lined Main Street and Maney Avenue.

"We are proud to be the 2021 title sponsor of this rich tradition that highlights Rutherford County at its best," said Gordon Ferguson, President and CEO, Ascension Saint Thomas Rutherford. "By encouraging participants from diverse backgrounds to pursue more physically active lifestyles, the mission of the Murfreesboro Half Marathon aligns meaningfully with the values of Ascension Saint Thomas."

"Runners are excited about being able to participate in person this year," said Miles Tate, Murfreesboro Half Marathon board president. "It is such a flat course that many runners from around the country use the race to train for full marathons or to set a PR (personal record). It's perfect for a first-time half marathon runner as well."

Participants may register online by credit or debit card at RunSignUp.com beginning June 2 at 6 a.m.

Sponsors include Ascension Saint Thomas Rutherford, The City of Murfreesboro, Murfreesboro Parks & Recreation Department, Fleet Feet Sports, Lee Company, Purity, TrustPoint Hospital, Rutherford County Convention and Visitors Bureau, and Publix.

Since its inception in 2007, The Murfreesboro Half Marathon has supported the running community and has donated over $500k to local charities and organizations. For more information visit www.TheMiddleHalf.com, or on Facebook @TheMiddleHalf.
Saint Thomas Patient Talks about
her Marathon Goal, Despite Spine Condition

Megan Wise, 34, was diagnosed with Degenerative Disc at the age of 15. "As a runner and an active girl, I was defeated by the news," Megan said. "I have always been an active person. My hobbies consist of running, boating, camping, trail hiking, and anything that involves the outdoors."

Shortly after Megan's diagnosis, she had her first surgery scheduled. After her surgery, Megan was in and out of physical therapy with no improvements. After many months of rehab, she was told she needed to go back for her second round of surgery at age 19. 15 year later, just when she thought she was improving, her back pain flared again. She then made the decision to go back to the hospital one last time. "My doctor informed me that this third surgery would be a little more intensive and dangerous," Megan stated. "They would have to go through my stomach, fuse my spine, and it would ultimately be a really difficult and long recovery. I was so overwhelmed and scared at the thought."
After hearing this news, Megan decided to check out a second opinion. That is when she found Dr. Lanford at Ascension Saint Thomas. "He informed me he could do the surgery without infusing my spine and could even buy me 10 years until I might need another surgery," Megan said. "I was so relieved with this news and was so grateful for this alternative." On February 19, 2021, she had her third back surgery and is back stronger than ever.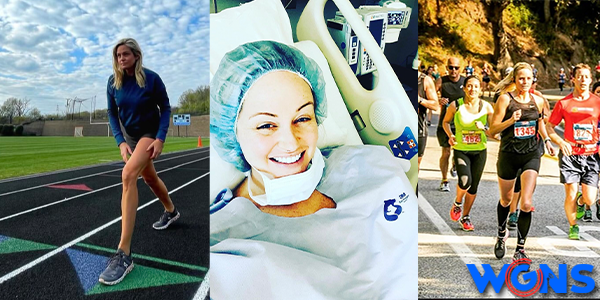 "Surgery forced me to be unmobile for a year and, mentally, it put me in a difficult state of mind," Megan said. "I realized I took walking, running, and anything active for granted." Megan is working herself up to her lifelong dream of qualifying for the Boston Marathon.

She recently started an instagram page to motivate others who are going through similar situations. "I want to inspire others to start moving, regardless of their fitness level," Megan said. "I want to provide a positive message. No matter how big the goal may seem, just take the first step. This journey has changed my life, and I choose to see it in a positive light."

Megan accomplished a big milestone over the 4th of July holiday weekend by completing her first 5k since her surgery. "I am focusing on myself again," Megan said. "I am still recovering but giving myself grace and patience through this process. Dr. Lanford and his team provided such genuine care throughout my journey and I am forever grateful."