The pandemic brought the national parks system to a virtual halt in 2020 as federal shutdowns closed various sites across the country. Yellowstone National Park's attendance from January to May plummeted by more than 70% over the same stretch in 2019.


However, the parks system came roaring back in 2021 as visitors to the nation's most majestic locations arrived at record rates. In May, Yellowstone recorded the most visitors on record in that month, and through May the park had more visitors year-to-date than it had in any of the past five years.
That the breathtaking environs of famous parks like Yellowstone and Yosemite are attracting visitors at record rates is no surprise. Nationally, outdoor activities saw a significant increase in participation in 2020 as people turned to outside hobbies to ease the stress of the pandemic.
---
And for those who love history, the National Park Service's (NPS) historic sites offer an intersection between the beauty of the outdoors and the American story. While the NPS is best known for its expansive scenic parks, like Yellowstone and Yosemite National Parks, more than half of the areas it manages were established to commemorate people and events important to the nation's history. The nation's network of historically significant sites—including national battlefields and battlefield parks, national military parks, national historic sites and parks, and national memorials—brings in tens of millions of visitors each year. And while the park system suffered a huge blow in 2020 attendance, pre-pandemic trends indicate the increasing popularity of these destinations.

Among the NPS's historically-significant sites, national historical parks and national memorials were the most visited in 2020. Popular examples of national historical parks include Chesapeake & Ohio Canal Historical Park, Valley Forge National Historical Park, and San Francisco National Maritime Park.


---
The national memorials that welcomed the most visits in 2020 include, in order of visits, Lincoln Memorial, Mount Rushmore, and a pair of war memorials in Washington D.C.: World War II Memorial and Vietnam Veterans Memorial. These four sites accounted for more than 8 million visitors in 2020 and made up more than half the visits to national memorials.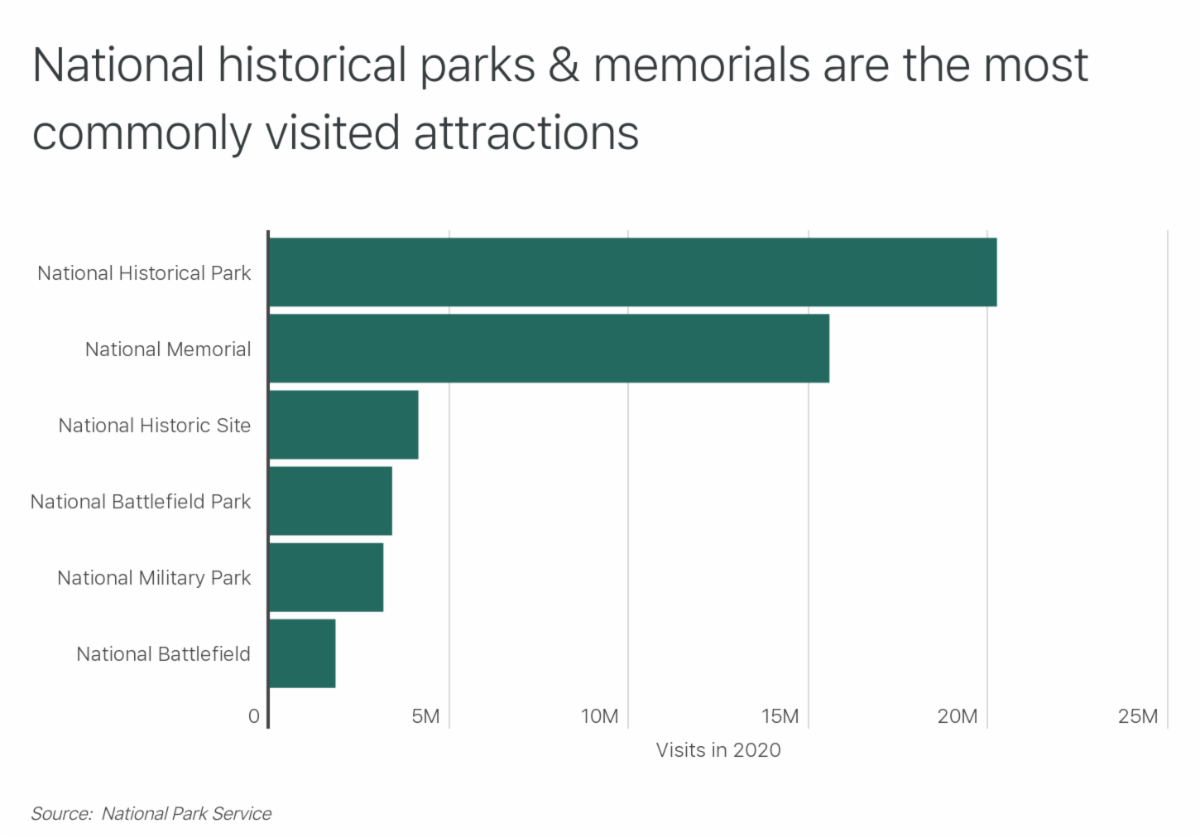 To find the most popular historical sites in America, researchers at Outdoorsy analyzed the most recent visitation statistics from the U.S. National Park Service, ranking parks by their total number of recreation visits in 2020. The researchers also included statistics on total recreation hours, as well as the total size of each park. For the purpose of this analysis, Outdoorsy defined a national historical site as any one of the following park types: national battlefield, national battlefield park, national historic site, national historical park, national memorial, or national military park.

The analysis found that of the more than 150 historical sites included in the analysis, Stones River National Battlefield was the most-visited in the state of Tennessee last year, totaling 301,270 recreation visits. Here is a summary of the data for Stones River National Battlefield:

Park type: National Battlefield
State(s): Tennessee
Recreation visits: 301,270
Recreation hours: 381,211
Total park acres: 709.5

Murfreesboro, TN Looking Back – A National Park Service (NPS) report shows that 346, 213 visitors to Stones River National Battlefield in 2016 spent $20.2 million in communities near the park. That spending supported 322 jobs in the local area and had a cumulative benefit to the local economy of $27.5 million.

"Stones River National Battlefield welcomes visitors from across the country and around the world," said Superintendent Brenda Waters. "We are delighted to share the story of this place and the experiences it provides. We also feature the park as a way to introduce our visitors to this part of the country and all that it offers. National park tourism is a significant driver in the national economy, returning more than $10 for every $1 invested in the National Park Service, and it's a big factor in our local economy as well. We appreciate the partnership and support of our neighbors and are glad to be able to give back by helping to sustain local communities."

The peer-reviewed visitor spending analysis was conducted by economists Catherine Cullinane Thomas of the U.S. Geological Survey and Lynne Koontz of the National Park Service. The report shows $18.4 billion of direct spending by 331 million park visitors in communities within 60 miles of a national park. This spending supported 318,000 jobs nationally; 271,544 of those jobs are found in these gateway communities. The cumulative benefit to the U.S. economy was $ 34.9 billion.

According to the 2016 report, most park visitor spending was for lodging (31.2 percent) followed by food and beverages (27.2 percent), gas and oil (11.7 percent), admissions and fees (10.2 percent), souvenirs and other expenses (9.7 percent), local transportation (7.4 percent), and camping fees (2.5%).

Report authors this year produced an interactive tool. Users can explore current year visitor spending, jobs, labor income, value added, and output effects by sector for national, state, and local economies. Users can also view year-by-year trend data. The interactive tool and report are available at the NPS Social Science Program webpage: go.nps.gov/vse.

The report includes information for visitor spending at individual parks and by state.
To learn more about national parks in Stones River National Battlefield and how the National Park Service works with Tennessee communities to help preserve local history, conserve the environment, and provide outdoor recreation, go to www.nps.gov/tennessee
---
For more information, a detailed methodology, and complete results, you can find the original report on Outdoorsy's website: https://www.outdoorsy.com/blog/popular-historic-sites-america