WGNS first came on the air in Murfreesboro, TN on the night of December 31, 1946 and our first full day of being on the air was on January 1, 1947. Imagine all the news stories and history that has been heard by listeners over that time frame.
Listen back to some of the shows from 2022 as we celebrate the 75th anniversary.
The Wake Up Crew 75th anniversary special, featuring station owner Bart Walker:
Action Line with Bart Walker and John Hood. WGNS came on the air Dec. 31, 1946 at 10:45PM. Rutherford County's first radio station rang in the New Year of 1947. One of the station's early broadcasters, John Hood, and former State Representative, shares early memories about the Good Neighbor Station:

We invite you to turn back the clock with us and listen to a few vintage recordings, some dating back to 1947. Here are a few we've collected over the years...

WGNS in the 1940's and 1950's

1947 - This is a sponsor ID that aired on the station announcing it was 5:00...




1949 - McCord and Harris on the Square Commercial by Bill Barry:




1950 - Jerry Brown, voice of the Hub Store on the local Square:




1950 - Sewart Air Force Base, John Hood WGNS Host:


In the 1940's and into the early 1950's, WGNS would team up with the Liberty Broadcasting System to carry big band concerts that were held at the Sewart Air Force Base in Smyrna, TN.




Music from the 1948 to 1950 era was heard through the radio network…




On an interesting sidenote, the Liberty Broadcasting System radio network was founded by Gordon McLendon. The Texas based network would re-create Major League Baseball games with sound effects after a popular team won a game. Many listeners never knew they were not listening to the actual game at the time.

Here is another performance from the Sewart Air Base in Smyrna from 1949 with John Hood...




This is a news intro from 1949...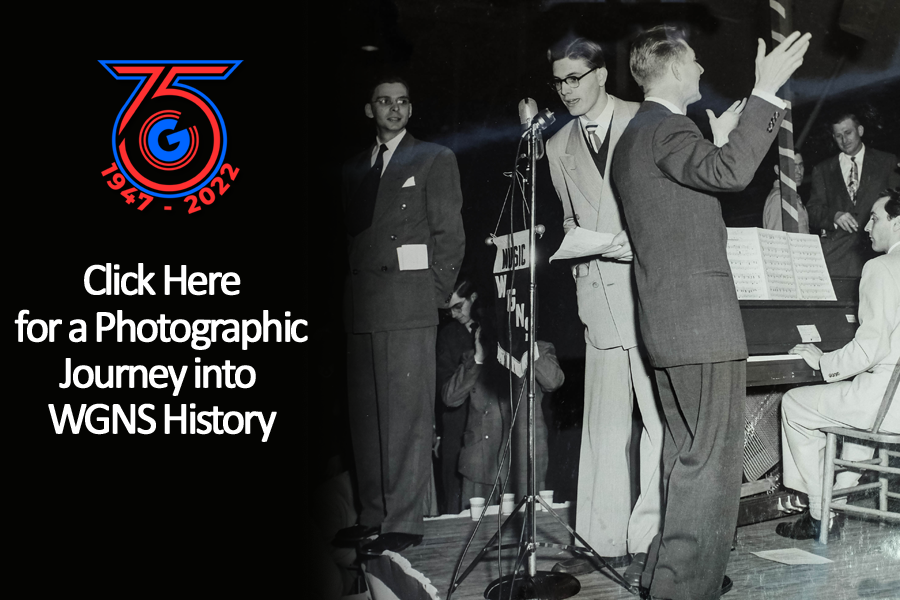 WGNS Into the 1970's

In the early 1970's, this was one of the many jingles you'd hear on WGNS AM 1450...




Wolfman Jack, who was on WGNS, doing a news promo in 1976...




American Top 40 with Casey Kasem was on WGNS. This is a local break from the program in 1976...




WGNS in Murfreesboro, TN was known as "The News Authority" in the 1950's, 60's, 70's and beyond, as announced on air by John Young...




That youthful voice of John Young went on to do voiceover work for TV stations around the country, including NewsChannel 5 in Nashville. He also did voiceover work for big Hollywood Movie trailers. In fact, he still records today and has a studio in his Middle Tennessee home.

WGNS into the 1990's

It was 1990 and advertiser Adkins TV in Murfreesboro was letting the WGNS audience know about their repair service. Bart Walker voiced this commercial on WGNS AM 1450...




This is a WGNS promo that aired in the 1990's with a WGNS singing jingle at the end of the spot...




Melanie Davenport operated Cellular Concepts in the 1990's, where they offered the latest cellphones and beepers (pagers)...




Almost 30-years ago in 1993, you likely heard this radio program promotion if you were tuned into WGNS AM 1450...




WGNS' Bryan Barrett, who has covered news in Rutherford County since the 90's, is heard updating listeners in 1993 about a weather alert…




WGNS' Scott Walker announcing a weather update about 30-years ago in 1993 on WGNS Radio...




In the 1990's, video rental stores were HUGE and families would rent VHS movies and later DVD movies every Friday and Saturday night. Here is WGNS' Jon Dinkins voicing a Broadway Video commercial on WGNS Radio...




If you have early recordings of WGNS radio commercials or broadcast, let us know - we'd love to hear them!