911-Lines throughout the Middle Tennessee area have been impacted by the Christmas morning explosion on Second Avenue in Nashville. Due to the blast, AT&T is experiencing an outage that is causing problems for local emergency communications.
UPDATE FOR MURFREESBORO: Murfreesboro 911 has been re-established but your name and location may not be seen by dispatchers. Please give your name and location to dispatchers immediately. However, non-emergency lines are still down. Please call 629-201-5056 for non-emergency related calls.
UPDATE FOR RUTHERFORD COUNTY: 911 has been re-established at the Rutherford County Sheriff's Office. The regular non-emergency number of 615-898-7770 is functioning again.
Below are a list of phone numbers for different police and sheriff offices:


MURFREESBORO, TN 911 DOWN:
Please call 629-201-5056 until further notice.
UPDATED

RUTHERFORD COUNTY SHERIFF 911 DOWN:
For emergencies, call 615-546-5793.
UPDATED
LAVERGNE, TN 911 DOWN:
The 911 system and non-emergency number is down due to an AT&T outage. If emergency response is needed please call these number: 615-471-1103 -
UPDATED
Smyrna Police: 615-930-2067
Rutherford County Emergency Medical Services: 615-546-5801
Middle Tennessee State University: 615-898-2424
Middle Tennessee Electric: 615-571-0297

MT. JULIET, TN 911 DOWN: Mt. Juliet residents can temporarily call 615-406-5849.

GALLATIN, TN 911 DOWN: Local residents can call 615-561-2080 or 615-561-2308.

SUMNER COUNTY, TN EMERGENCY: Sumner County Emergency Communications set up numbers for non-emergency calls that include 615-561-2080 or 615-561-2308. Emergency calls in Sumner County can be made by calling 615-561-2219, 615-561-2299 or 615-561-2254.

WILLIAMSON COUNTY EMERGENCY NUMBERS: Williamson County has additional emergency numbers that include 615-790-5550 or 615-790-5801.

Metro Police Department Photo Below: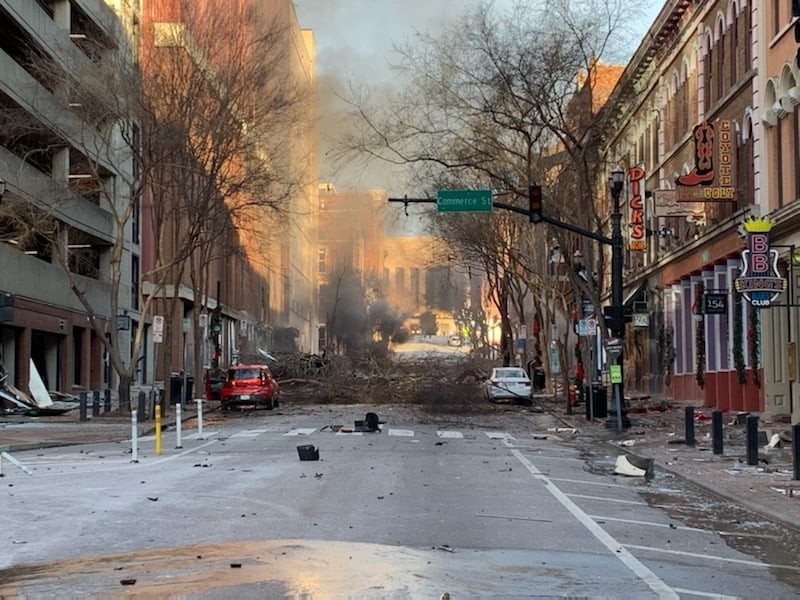 Nashville Metro Police Release:

MNPD, FBI, and ATF are investigating Friday's intentional 6:30 a.m. explosion of an RV outside 166 2nd Avenue North downtown. Vehicle and pedestrian traffic downtown is restricted as the investigation continues.

Officers responded to shots fired call on 2nd Avenue at approximately 5:30 a.m. The department's Hazardous Devices Unit was called to check the RV. As those officers were en route, the vehicle exploded outside an A-T-&-T transmission building. Multiple buildings on 2nd Avenue were damaged, some extensively.

Anyone with information about this case is asked to contact Crime Stoppers at 615-742-7463.