(NASHVILLE) The Tennessee Law Enforcement Training Academy made Rutherford County a safer place with six deputies from the Rutherford County Sheriffs Office and seven Murfreesboro Police Officers completing extensive training at this Lebanon Road complex in Nashville.
These graduates are some of the first to complete the courses after the pandemic.
Department of Commerce and Insurance Commissioner Carter Lawrence said, "I am pleased to announce the phased reopening of the Tennessee Law Enforcement Training Academy and POST Commission facilities. As you are all aware, current health concerns are compounded by the realities of a large residential law enforcement academy. In order to reopen as responsibly as possible, Governor Lee has approved us to begin training in very limited groups."
The Tennessee Law Enforcement Training Academy (T.L.E.T.A.) was authorized by the 1963 General Assembly for the purpose of training state, county and city law enforcement officers. The Academy was brought under the Department of Safety in 1983.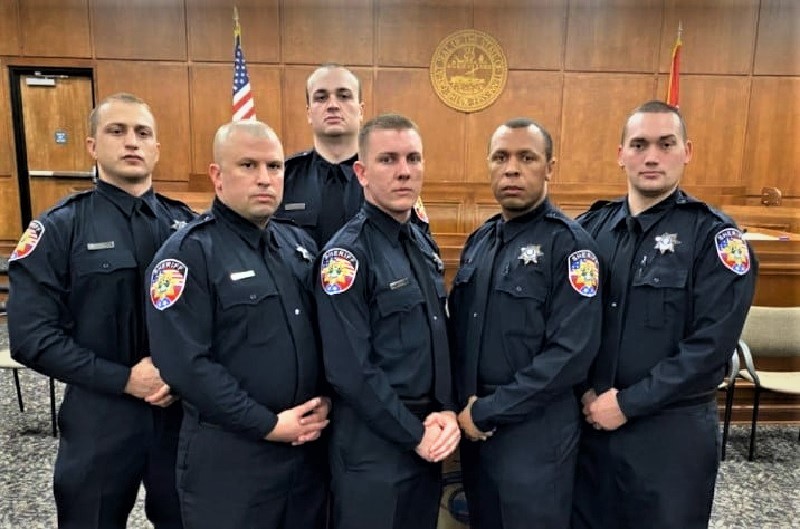 (L-R) Rutherford County Sheriffs Office Deputies Chris Danckwerth, Gabriel Spires, Seth Batsel, Jonathan Backus, Elijah Flanagan and Travis Brewer.
They thirteen new officeres were sworn in as certified officers, and will now have to complete additional in-house training at both the sheriffs office and police department.