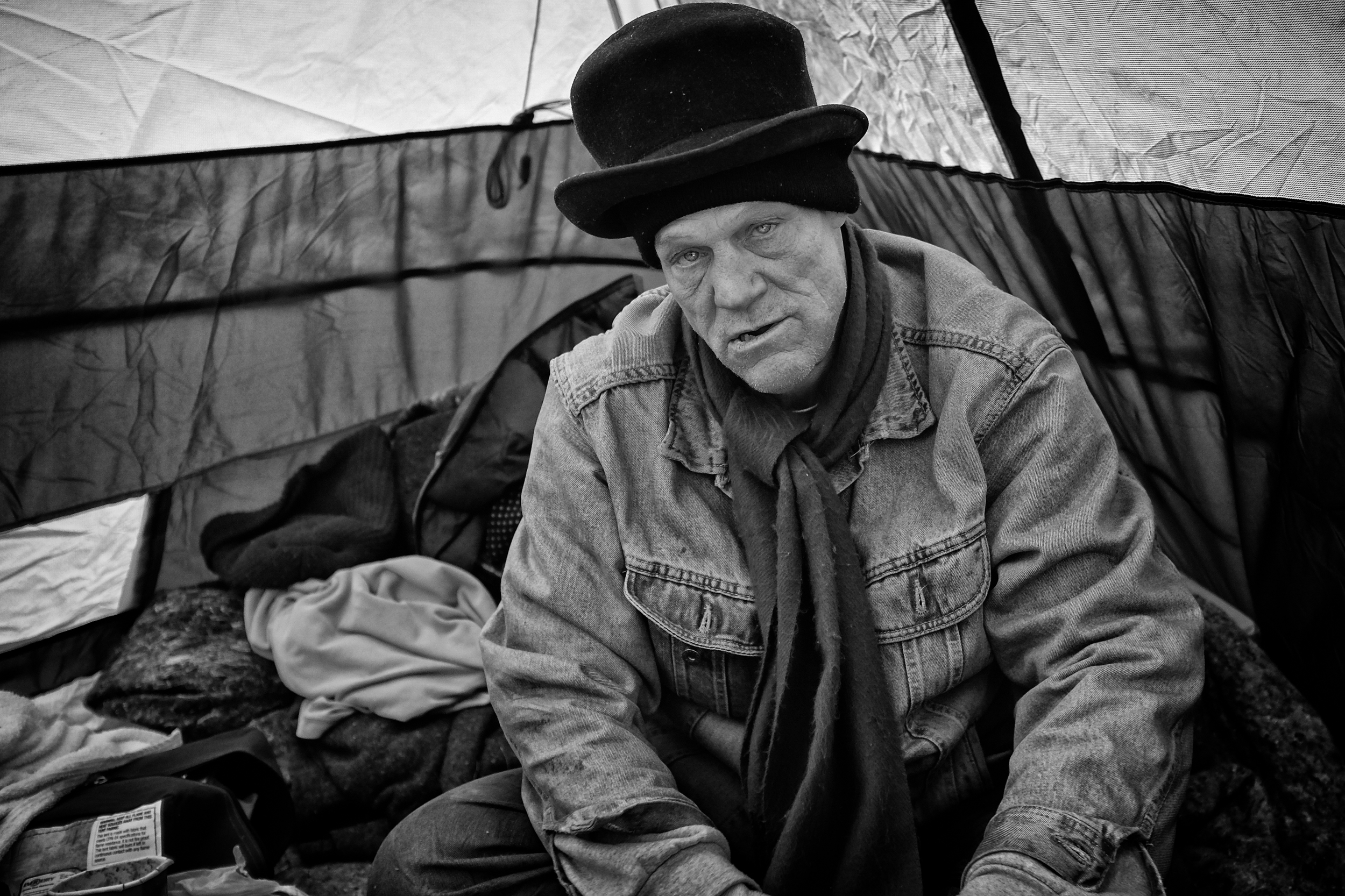 by Scott Walker
Photo Captured on March 1, 2015

I saw a tent sitting directly next to the outlet for a tunnel, which was a major thoroughfare in downtown Washington, DC. The tunnel was next to a U.S. Department of Justice building near 320 First Avenue.

"Knock – knock," I yelled as I got closer. I heard a raspy voice inside reply, "Can you unzip the door, I can't really move."

As I unzipped the tent flap, a man with ice blue eyes looked at me and asked, "What?" I told him I just wanted to see who lived so close to the road and I was curious to hear his story. He then emptied a milk crate that was sitting inside his tent and grabbed his pillow that lacked a pillow case. Next, he grabbed a large cup of urine and poured it outside the tent without getting up. "Sorry about that," he said. He flipped the milk crate upside down and placed his pillow on top of it. "Have a seat, that way you can be comfortable," he said with solid pat of the pillow. "My name is Lou."

He then begin to tell me how his tent was once located on the "other side" of DC. He said he had to move because he was beat up by gang members "just because" and everything he owned was stolen. He told me that this location was much safer. It was public.

As he continued to talk cars would drive by and randomly honk. With the sound of each passing horn he would jump or twitch. "I am schizophrenic and bi-polar, plus I'm diabetic… but I have not seen a doctor," he told me. He then talked about the pain he was experiencing when he stands on his feet. He told me his toes were "coming apart."
He proceeded to remove his shoes and socks. He slowly took one sock off while his face scrunched up as if he had eaten something sour. Gasping for air after it was totally removed he said, "See what I mean?" He told me he has not had medication for his diabetes in quite some time.

As for the mental illness he mentioned, he told me that he has not had a prescription filled in "months."

"I hate pissing in a cup and shitting in a bag, can you imagine living that way," he asked me? "The offices near here - won't let me enter their building and it hurts to walk anyway, so I have to use the bathroom in here, I can't use it out there," he stated while almost in tears.

This is Lou and yes, this is his life.

See more at SmallTownBigWorld.com or visit the WGNS Photo of the Day page.