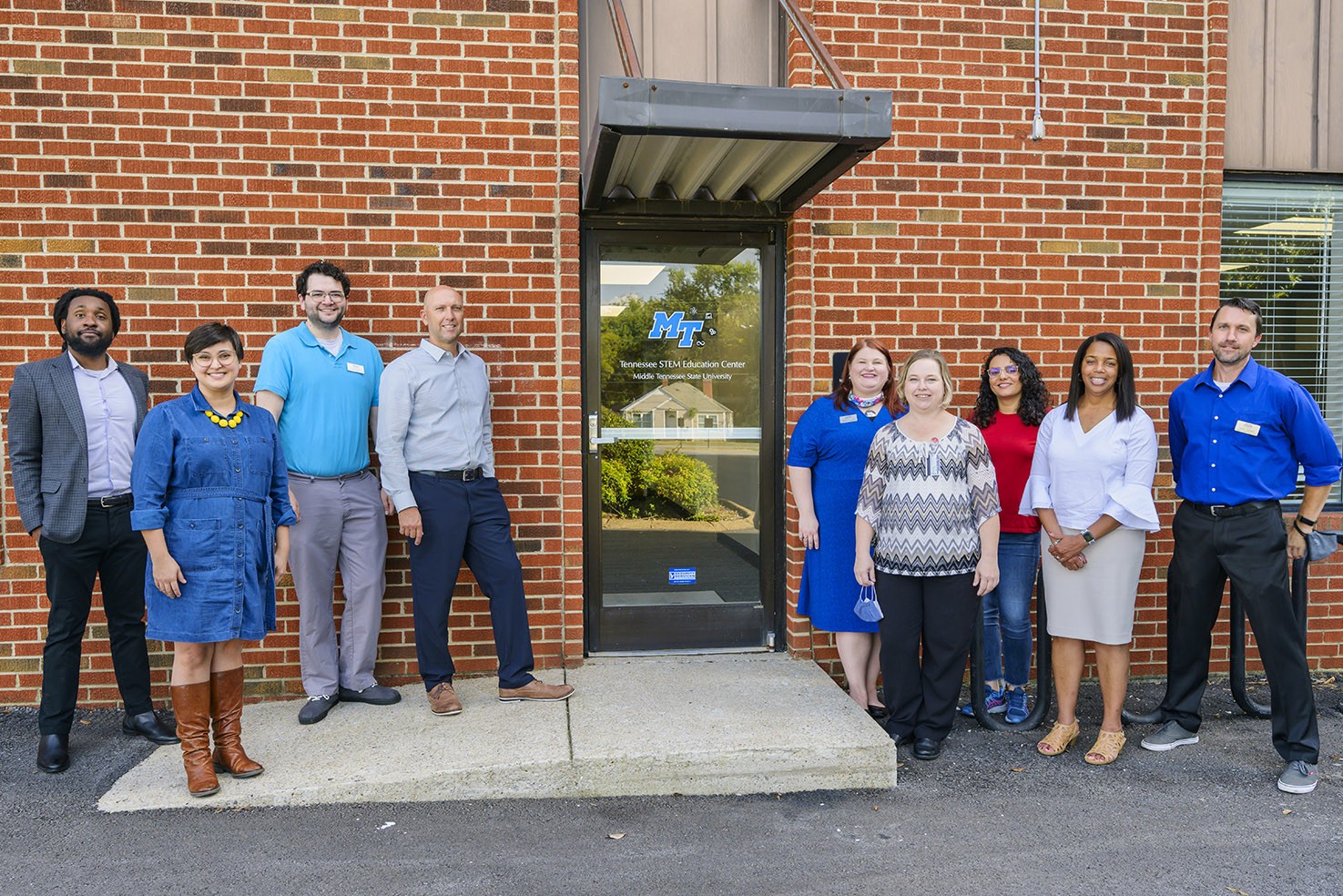 Above Photo:
Staff of the Tennessee STEM Education Center at Middle Tennessee State University gather outside their renovated office on campus on Sept. 29, 2021, during their open house event. Standing, from left, are Steven Berryhill, Sarah Gwinn, Josh Reid, Greg Rushton, Mandy Singleton, Sherry Schafer, Shaghayegh Fateh, Andrea Reeder and Grant Gardner. (MTSU photo by Andy Heidt)


MURFREESBORO, Tenn. — The Tennessee STEM Education Center at MTSU recently hosted an open house at its newly renovated location inside the Fairview Building off Greenland Drive.
The in-person event highlighted not only the center's ample resource library for the study and teaching of science, technology, engineering and math, but also its $118,000 renovation completed last month.
Scroll down to continue reading...
---


Continued...

The facelift, shown off at a Sept. 29 open house, included five new offices, a storage closet, a shared kitchen, an executive aide workspace, a conference room equipped with new technology and a new exterior door complete with the center's new logo and a matching entrance mat to set it apart from the other first floor offices.

"It was important for us to create a cohesive space that increased safety and productivity for our students and staff as well as somewhere accessible and inviting to our many partners," said Greg Rushton, director of the center, about the renovation that began last April.

The center's mission focuses heavily on outreach and leadership in the wider STEM education community — to expand high quality and accessible STEM education and to curate collaborations with other STEM education stakeholders.

Scroll down to continue reading...


---
Continue reading...

The more aesthetic and efficient office better reflects this mission and cements the center's role on a local, regional and national level, said Mandy Singleton, director of outreach and communications.

"As the center focuses on research and outreach, we work with a wide range of partners from various departments across campus, other universities across the country and K-12 STEM educators throughout the region," Singleton said. "We really wanted a physical space that would reflect the quality research and outreach we do in STEM education and accommodate our incredibly fast growth as a department."

Open house attendees toured the updated facilities and interacted with the center and its staff in person rather than through a computer screen, many for the first time.

"Guests and our partners (also) engaged with our lending library — displaying some of the 250 items we have available for our K-12 educators to use in their classrooms," Singleton said. "We (even) made items for our guests to take home on our 3D printers."

Those interested in the center can learn more about its mission and partnership opportunities by visiting the website at https://mtsu.edu/tsec or sending an email to tsec@mtsu.edu.