(MURFREESBORO) WGNS is continuing to follow details of a bank robbery that Murfreesboro Police and the FBI are investigating.


The robbery occurred just before 1:30 on Monday (12/13/2021) afternoon at First Horizon Bank, formerly First Tennessee Bank, in front of the Cason Lane Kroger Store.
Evidently, the unknown man walked into the bank and handed the teller a note demanding money. The bank employee complied.
Cameras inside the bank showed the man was wearing a black t-shirt with a gray or dark green long sleeved shirt underneath his t-shirt. The subject was also wearing a black hat, black face mask and bluejeans
(scroll down for crime scene photos)
.
Authorities say the First Horizon Bank robber parked his getaway car across the street, where he ran and then drove away. His car appeared to be a gray or silver 4-door sedan, possibly a newer model Honda Accord.
WGNS spoke to Murfreesboro Police Public Information Officer Larry Flowers on Wednesday (12/15/2021) afternoon and he confirmed no arrests have been made and the robber is still on the run.
Robberies and Thefts Common during the Holiday Season


Ronnie Martin with Pinnacle Bank in Murfreesboro told WGNS that it is not uncommon for robberies to occur during the holiday's...
Pinnacle Bank on Southeast Broad at South Rutherford Boulevard was robbed last Monday (12/06/2021), but in that case the suspect was caught within a matter of minutes.
Police Need Your Help on the First Horizon Bank Robbery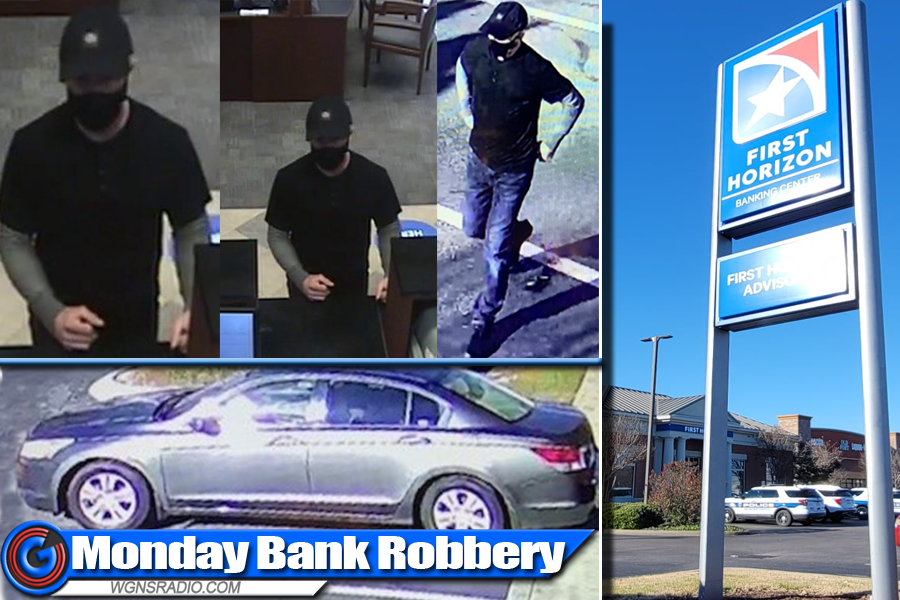 Murfreesboro Police Criminal Investigations Unit (CID) detectives and special agents from the FBI continue to investigate the Monday (12/13/2021) robbery.
Reward Available in First Horizon Case


If you were near First Horizon Bank on Cason Lane around 1:30PM Monday afternoon and saw or heard anything, please contact CID Detective Julie Cox at 629-201-5514. You can also submit a tip anonymously to Rutherford County Crime Stoppers at 615-893-STOP (7867) or via the P3 Mobile Intel app. A reward of up to $1,000 may be available for information leading to an arrest.