A new turn lane / reconfigured interchange on NW Broad Street at South Church Street is in the works, along with the long time plan of daylighting Town Creek, which connects to Lytle Creek behind Cannonsburgh. Murfreesboro City Manager Craig Tindall stated…


The park like changes planned for Town Creek, which starts on property next to and behind McDonalds at the intersection of South Church and Broad Street(s), developers will likely find renewed interest in the area called The Bottoms near Cannonsburgh on Front Street.
Reports indicate the development of a mixed use property where the original First United Methodist Church once stood at the intersection of East College Street at North Church Street has sparked the attention of investors eager to build in downtown Murfreesboro. The future development titled One East College, LLC will include retail, office and living spaces once complete.
Scroll down for more information on this story...

---
Continued...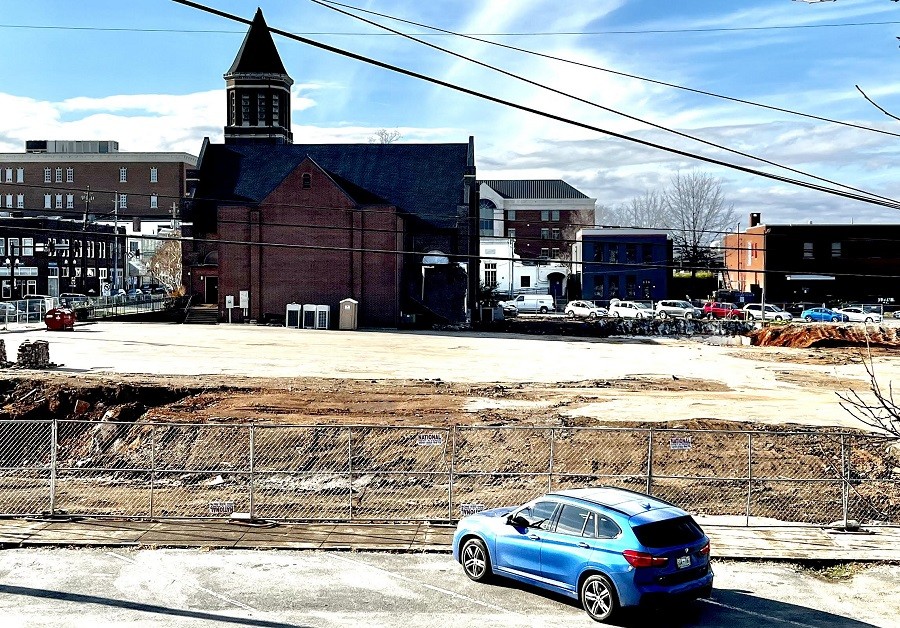 ABOVE: The current site of where the future mixed use building will be built.

The continued construction of One East College, LLC will soon equal condominiums, apartments, retail shopping, restaurants and offices.

The structure, which will incorporate the original First United Methodist Church Bell Tower, will be situated on almost 2.5 acres along East College Street at North Church Street.

Former Congressman Bart Gordon is one of several people who have already purchased a a living space within the future building.

Ground and foundation work has already begun and construction of the mixed-use development is expected to begin during the first half of 2022.

Scroll down for specific details on One East College, LLC...

More Details on the city block that was once First United Methodist Church

"This historic church mixed-use redevelopment project will add 156 residential units and a 12 1/2-story building in downtown Murfreesboro. The development will also provide 692 parking spaces, 110-room hotel, offices and retail spaces for stores and restaurants. KSA will preserve the sanctuary and bell town and covert the space into an event center or a restaurant. These residents of One East College will have access to a gated dog park, fitness center, clubhouse and an area with gated green grass." - Details from Kline Swinney Associates.