(MURFREESBORO) Ascension St. Thomas Rutherford Hospital President and CEO Gordon Ferguson was nominated by several residents to be the WGNS Heart for Healing recipient. Each month the public recommends persons whom they feel have had a positive impact on medical services in this community.
When presented the Heart for Healing award, Ferguson said . . .
Ferguson is only weeks away from reaching the milestone of having served in the senior administration of the local hospital for 16-years. In that time-frame, he has taken the community from an 80-year old structure on Highland Avenue that was land-locked, to a massive almost 70-acre campus that houses a state-of-the-art medical facility.
In fact, Ascension St. Thomas Rutherford Hospital had such an impact on establishing this city's Gateway Project that the road on which the campus fronts was named Medical Center Parkway. In those days the hospital was known as Middle Tennessee Medical Center.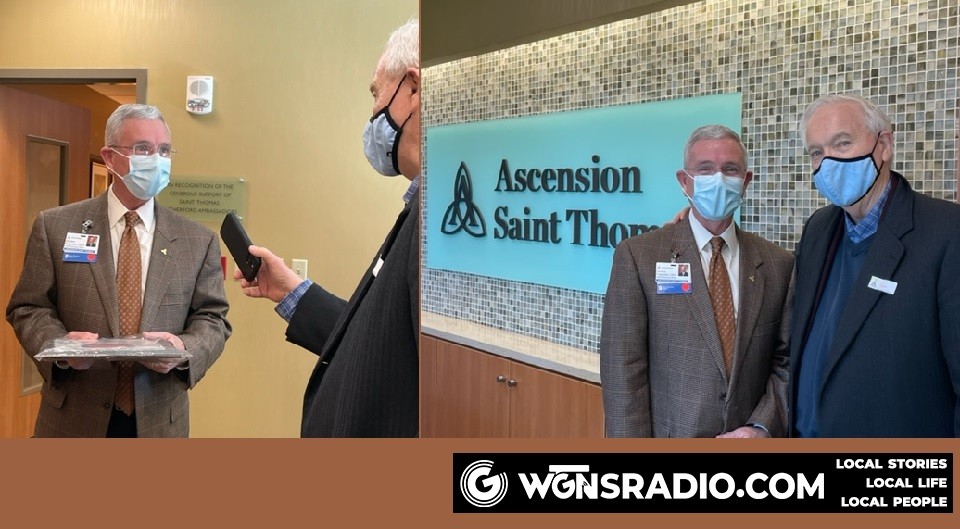 (Photo ID) Ascension St. Thomas Rutherford Hospital's President and CEO Gordon Ferguson (in left of both pictures)
Under Ferguson's leadership, this past year alone saw the local hospital complete a 3-story vertical expansion. That is a multi-year project with an estimated completion date in 2024. It will increase the hospital from a bed-count of 358 to 416. It also includes 16 additional ICU beds and a higher level neonatal intensive care unit with six bassinets.
2021 included the groundbreaking of this state's first neighborhood hospital. The $24.6-million project is being constructed on Veterans Parkway at Shores Road. It will have 8 patient rooms and an ER with 8 treatment rooms.
In 1986, the Murfreesboro hospital was jointly purchased by Nashville's St. Thomas and Baptist Hospitals. This was the first-time in U.S. history that a medical complex was jointly-owned by Catholic and Protestant institutions. Funds from the $40-million purchase were placed in what is known as the Christy-Houston Foundation. That non-profit now uses the interest generated from the capital to fund projects that benefit this community.
That's a far cry from the original Rutherford Hospital that opened on Highland Avenue in 1927. It was built for $161,620 with funding from a Commonwealth Fund of New York grant. That money was secured through the efforts of local merchant Simeon B. Christy and neighboring Woodbury native and New York banker Frank K. Houston--they are the namesakes for the Christy-Houston Foundation.
The hospital has now expanded to include clinics throughout the area, and is a part of Ascension Health, which according to its website, is a Catholic health ministry, dedicated to spiritually centered, holistic care which sustains and improves the health of individuals and communities.