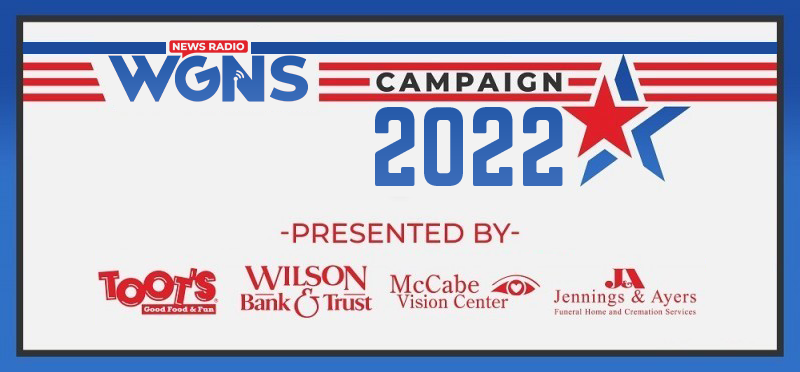 There are several new faces in local government after the August 4th county, municipal and state primary elections. 29,377 election day, early and absentee votes were cast. That's a 14.5% voter turnout.
Joe Carr is County Mayor-Elect, garnering 2,131 more votes than closest challenger Randy Allen. Travis Lampley is the new Juvenile Court Judge for Rutherford County, defeating Andrae Crismon. Incumbent Judge Mark Rogers held off a challenge from Mike Jones for Circuit Court Judge Division I by 1,234 votes. Mike Fitzhugh won re-election as county sheriff. Plus, Caleb Tidwell (Zone 3) and Frances Rosales (Zone 7) won seats on the county school board.
Fifteen of the 21 county commission districts were contested. Democrat Hope Oliver defeated Republican David Gammon by 28 votes in District 1. In District 5, longtime incumbent Carol Cook was defeated by 65 votes by challenger Laura Davidson. Republican Phil Dodd in District 16 finished 63 votes ahead of Democrat Kyle Mullicane. District 17 incumbent Republican Jeff Phillips edges Democrat Mariah Phillips by 33-votes. Romel McMurry finished 63 votes ahead of Corey Sippola in District 19.
In Murfreesboro, Shane McFarland won re-election as mayor. On the council, Vice-Mayor Madelyn Scales Harris was the top vote getter, with Austin Maxwell and Jami Averwater taking the two open seats after Ronnie Martin and Rick LaLance decided to not seek re-election. Amanda Moore retains her seat on the city school board while Barbara Long and Karen Dodd take two open seats.
In Smyrna, Lisa Brewer is the new Court Clerk.
The state primary was held, with just one contested race for the new state House District 13. Long time County Commissioner Robert Stevens held back Gabriel Fancher in the Republican primary. He will face Democrat Jeff Crum in November.
Check out all of the final vote totals from the August 4th election online at WGNSRadio.com.
Final Numbers: https://secure.rutherfordcountytn.gov/election/080422-html/index.htm
Rutherford County Contested Races


Rutherford County Mayor
Joe Carr (R): 12,518 Votes
Randy Allen (I): 10,387 Votes
Norman Hanks (I): 1,853 Votes
Royce Olen Johnson (I) 2,705 Votes
The newly elected mayor for the county told WGNS NEWS...
Rutherford County Commission Race

Dist. 1
David Gammon (R): 329 Votes
Hope Oliver (D): 357 Votes

Dist. 2
Stephen Pearcy (R): 1,356 Votes

Dist. 3
Michael A. Rather (R): 716 Votes
Anita L. Herron (D): 361 Votes

Dist. 4
Michael A. Rodgers (R): 753 Votes
Robert Peay (I): 938 Votes

Dist. 5
Carrol Cook (R): 251 Votes
Laura Davidson (I): 316 Votes

Dist. 6
Jonathan Beverly (R): 1,001 Votes
Tim Tidwell (I): 526 Votes

Dist. 7
Michael Kusch (R): 810 Votes
Joseph Locher (D): 560 Votes
Paul Roscoe Williams (I): 206 Votes

Dist. 8
Pettus L. Read (R): 1,338
Matthew Burke (D): 448 Votes

Dist. 9
Joshua James (R): 1,070 Votes
Mark A. Linville (D): 467 Votes

Dist. 10
Phil Wilson (R): 620 Votes
Iris Dismukes (D): 446 Votes

Dist. 11
Anthony Johnson (R): 510 Votes

Dist. 12
Carrol B. Boyd (R): 654 Votes
Celest Davis (D): 300 Votes

Dist. 13
Paul Johnson (R): 596 Votes
Byron Glenn (I): 483 Votes

Dist. 14
Wayne Irvin (R): 1,456 Votes

Dist. 15
Craig Harris (R): 1,416 Votes
Sedrick Alford (D): 906 Votes

Dist. 16
Phil Dodd (R): 561 Votes
Kyle Mullicane (D): 498 Votes

Dist. 17
Jeff Phillips (R): 381 Votes
Mariah Phillips (D): 348 Votes

Dist. 18
Allen McAdoo (R): 792 Votes

Dist. 19
Corey B. Sippola (R): 820 Votes
Romel McMurry (I): 883 Votes

Dist. 20
Trey Gooch (R): 761 Votes

Dist. 21
Chantho Sourinho (D): 767 Votes
Rutherford County Trustee:
Teb Batey (R): 20,361 Votes, Incumbent
General Sessions Judge Part I:
Ben (Trey) Hall McFarlin, III (R): 20,167 Votes, Incumbent
General Sessions Judge Part II:
Ben E. Bennett (R): 18,808 Votes, Incumbent
General Sessions Judge Part III:
Toby Gilley (R): 19,421 Votes, Incumbent
General Sessions Judge Part IV:
Lisa A. Eischeid (R): 19,315 Votes, Incumbent
Circuit Court Judge District 16:
Mark Rogers (I): 13,149 Votes, Incumbent
Mike Jones (I): 11,195 Votes
Circuit Court Clerk:
Melissa Harrell (R): 19,615 Votes, Incumbent
Rutherford Co. Clerk:
Lisa Duke Crowell (R): 20,080 Votes, Incumbent
Register of Deeds:
Heather Dawbarn (R): 19,719 Votes, Incumbent
Murfreesboro Municipal Contested Races
Murfreesboro Mayor
Nathan Bennett (I): 2,100 Votes
Shane McFarland (I) – incumbent: 8,446 Votes
Tony Lehew (I): 2,103 Votes
Murfreesboro City Council (top 3) [Rick LaLance & Ronnie Martin not running for re-election]
Jami Averwater (I): 4,991 Votes
Carolyn Cox (I): 4,101 Votes
Austin Maxwell (I): 5,153 Votes
Warren Russell (I): 4,087 Votes
Samrane Sourinho (I): 1,677 Votes
Ricky Turner (I): 3,698 Votes
Madelyn Scales Harris (I) – incumbent: 6,408 Votes
Murfreesboro School Board (top 3) [Roseann Barton & Becky Goff not running for re-election]
Barbara Long (R): 7,336 Votes
Karen Dodd (I): 7,058 Votes
Amanda Moore (I) – Incumbent: 7,779 Votes
Florence Omachonu (I): 4,107 Votes
Smyrna Municipal Contested Races
Smyrna Court Clerk
Lisa Brewer (I): 1,838 Votes
Sergio Gutierrez (I): 954 Votes
Town Court Judge: Brittany Stevens (I): 2,389
State House - District 13 (new Rutherford County District, winner to face Democrat Jeff Crum in November)
Gabriel Fancher (R): 1,363 Votes
Robert Stevens (R): 2,062 Votes
State House District 34: Tim Rudd (R): 3,240 Votes, Incumbent
State House District 47: Charlie Baum (R): 3,658 Votes, Incumbent
State House District 48: Bryan Terry (R): 4,606 Votes, Incumbent
State House District 49: Mike Sparks (R): 2,080 Votes, Incumbent
State Exec. Cmmttmn
Dist. 13: Jim Sandman (R): 10,241 Votes
Dist. 14: Richard T. Floyd (R): 4,746 Votes
State Exec. Cmmttwmn
Dist. 13: Myra Simons (R): 10,089 Votes
Dist. 14: Lynne Davis (R): 4,898 Votes
Day of Election Totals: https://secure.rutherfordcountytn.gov/election/CurrentElectionResults/index.html