(RUTHERFORD COUNTY, TN) The title of 'Senior Citizen' no longer brings to mind the seniors we once thought of as 'old' or 'worn-out.' Today's seniors are active and filled with life…
That was Laura Grissom with the St. Clair Senior Center in Murfreesboro. Grissom told WGNS that an upcoming Health Expo will be a great place to get an update on the basics of your…
The FREE Health Expo is Thursday, October 6th between 8AM and Noon. If you don't know where the St. Clair Senior Center is located, it is in Murfreesboro at 325 St Clair St. (Murfreesboro, TN 37130). Their phone number is (615) 848-2550. Again, the Health Expo is Thursday, October 6th between 8AM and 12 Noon.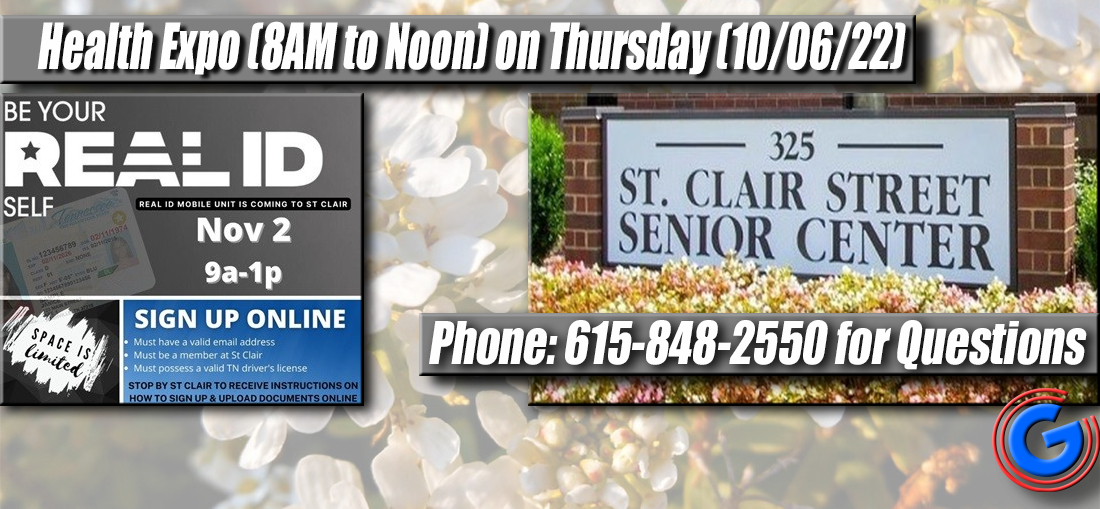 More Details on Health Expo (below)
(MURFREESBORO) From 8:00 o'clock this coming Thursday morning (10/6/2022) until noon, the giant HEALTH EXPO will be in progress at the St. Clair Street Senior Center. More than 50 healthcare professionals offering screenings, assessments, and information at the senior center, 321 St. Clair Street.
You will be able to get your feet checked, talk to Ascension St. Thomas cardiac team, get your glasses repaired and your dentures cleaned, and visit with physical therapists!
There will be vision and hearing test, neuropathy screening, skin cancer screening, fall risk screening, mental health screening, and many more.
Walgreens will be offering flu shots so bring your insurance cards with you (including your prescription card).
The St. Clair Street Senior Center will also have snacks, giveaways, and door prizes, so make plans to join us!
For more information, phone 615-848-2550.