MURFREESBORO, Tenn. – The Rutherford County Courts found probable cause to present a murder case from December of 2020 to a Grand Jury…
That was Rutherford County Assistant District Attorney Trevor Lynch. Almost exactly 2-years-ago to-the-day, the lifeless body of 20-year-old Montavis Jones was found in the parking lot of Campus Crossing Apartments. Around that same time, Murfreesboro Police received word that a man suffering from a gunshot wound had just been dropped off at Saint Thomas Rutherford Hospital.…
21-Year-old Maceo Boyd, who was somehow injured by gunfire when Jones was killed, was named as a suspect. The two men who transported Boyd to the hospital, Paul Turner, and Tevin Campbell, both 21-years-of-age, were also named as suspects in the Jones murder case.
20-Year-old Martavius Guy was later named as a fourth suspect in the investigation that was led by Murfreesboro Detective Chris Pate…
Police report the girlfriend of Martavius Guy was revealed to be tied to the case…
In December of 2020, the suspects allegedly lured Jones to Campus Crossing Apartments on N. Rutherford Boulevard under the pretense of selling marijuana. There, Jones was reportedly ambushed.
Again, the case was Bound Over to a Rutherford County Grand Jury and WGNS will continue to follow this story. Scroll down to read more about the arrests, which took place earlier this year (2022).
LOOKING BACK ON THE JONES MURDER CASE: 20-Year-old Montavis Jones was shot and killed on Dec. 4, 2020. As a result of the homicide, Maceo Boyd, Paul Turner, and Tevin Campbell, all 21-years-of-age, were charged with first-degree murder, felon(s) in possession of a firearm, attempted especially aggravated robbery, and conspiracy to commit especially aggravated robbery.
Federal agents arrested Boyd and Turner in Memphis and the two were transferred to the Rutherford County Adult Detention Center this past March (2022). Campbell, who was jailed in Georgia for an alleged violation of probation charge, was transported to the Rutherford County Adult Detention Center on June 14, 2022.
20-Year-old Martavius Guy was apprehended and transported to Rutherford County on March 23, 2022. Guy was previously being held at the Montgomery County jail after being arrested on drug charges. 20-Year-old Tybresa Lattimore, who was charged with conspiracy to commit aggravated robbery, was previously arrested in Montgomery County and later released from jail on bond.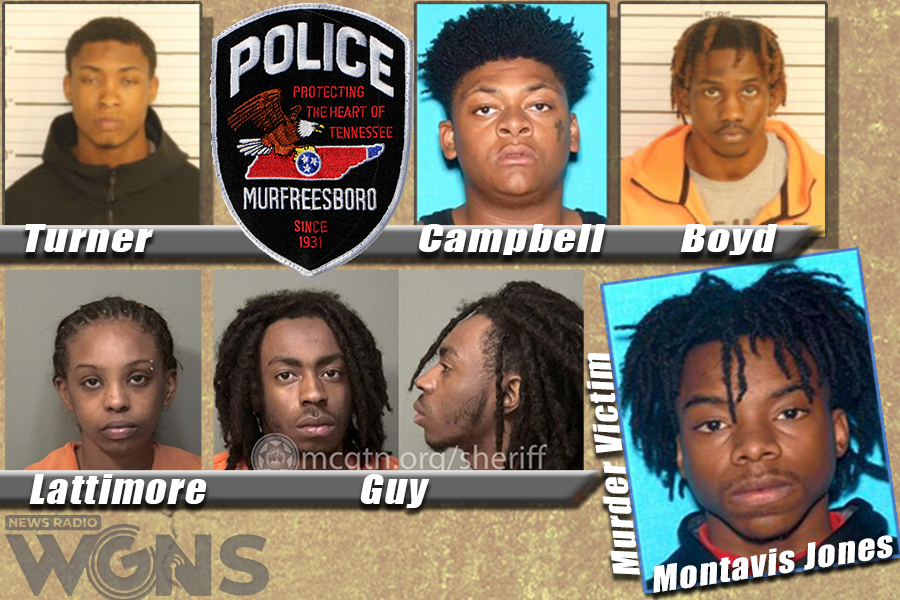 The investigation has been underway for more than a year by MPD detectives who report the murder of Jones took place at the Campus Crossing Apartments, 285 N. Rutherford Blvd. in Murfreesboro on Dec. 4, 2020. The investigation revealed the five people believed to be involved allegedly lured Jones to the location under the pretense of selling marijuana and then reportedly ambushed him. Crime Scene technicians recovered bullet casings from five different firearms.

Boyd also received injuries in the shooting.

MPD Special Investigation Division detectives are also investigating possible gang ties between several of the suspects.

DISCLAIMER: All suspects are presumed innocent until proven guilty in a court of law. The arrest records or information about an arrest that are published or reported on NewsRadio WGNS and www.WGNSradio.com are not an indication of guilt or evidence that an actual crime has been committed.