(Rutherford County, TN) This past Saturday (01/28/2023), Coach Guthrie with Rockvale High School told friends, former students and supporters of the Rockvale Rockets football team that former player Brady Owen was involved in a serious auto accident. As a result of the wreck, Owen was listed in the critical care unit at Vanderbilt University Medical Center in Nashville.
Owen, who graduated from Rockvale High School in 2022, currently plays football for Cumberland University in Lebanon, Tennessee. This past Saturday he was headed to the Murfreesboro area by route of Interstate 840, a trip that he has grown quite familiar with, when his pickup truck was reportedly rear-ended around 8:30 in the morning. The collision sent Owen's truck off the road, causing it to rollover. As the pickup overturned, the young man was then ejected from his vehicle. Due to the extent of his injuries, he was transpoted to Vanderbilt University Medical Center.
On Monday morning, friends, former classmates, coaches and other school employees met on the track that surrounds the Rockvale High School football field to say a prayer for Owen. Some shared stories while others asked for healing. A handful of students talked with one another about the hardships his family must be battling and found it next to impossible to understand how this young man went from vibrant and full of life - to simply clinging to life in the matter of a single breath. One student told us after school, "I didn't know Brady, but I don't know how this could happen to someone who just started playing college ball this - - and then this happens, right when his whole life is in front of him, I mean - he was only a year older than me."
So many students were speechless on Monday while standing outside the school Owen graduated from about year earlier.
A message posted on Monday (01/30/23) by "Rockvale Rockets Football" via Twitter (@Rockvale_FB) said, "We had an amazing group of students and staff come out this morning to join a prayer circle for [Brady Owen] @Brady_Owen51. We'll continue to pray and support him and his family in any way we can." Photo from Rockvale below.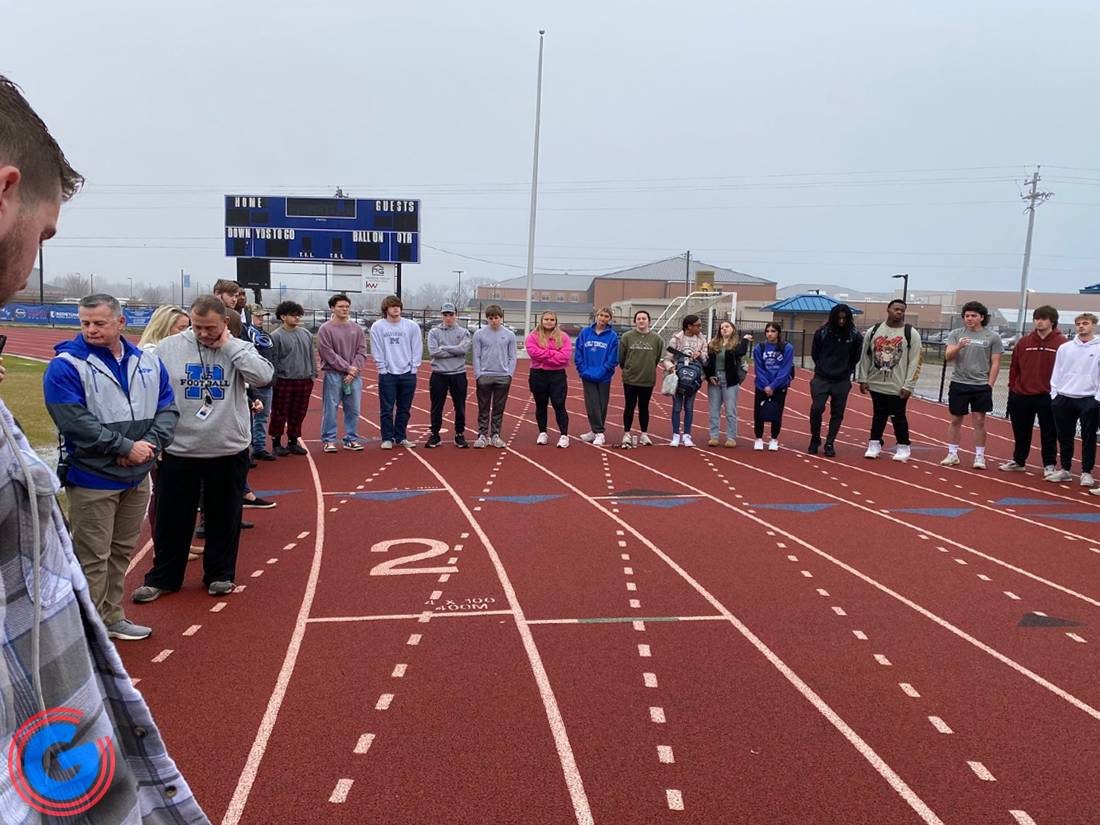 After Owen graduated from Rockvale last year, he was college-bound for Cumberland University, where he'd play football as a freshman. Almost exactly 12-months ago, Owen highlighted his excitement to be a part of the Cumberland University Football Program in multiple social media posts.
On January 19, 2022 Owen pinned a Tweet that said, "High School football was fun and crazy. First, I want to give glory to God. Without him, none of this would be possible. I want to thank all the coaches who reached out and talked recruiting with me. I want to thank my Mom, Dad, Coach Rice, Coach Gut, Coach Crane and all the Rockvale family for believing in me. I wouldn't be where I am without ya'll. With that being said, I will be taking my talents and committing to Cumberland University!! Go Phoenix!"
About a week later on February 1, 2022, the Cumberland University Football Team Tweeted a warm "Welcome to the Phoenix" message to Owen, introducing him to the student body. 11-Months and 3-weeks later, Owen was making the drive from Lebanon to Rutherford County when a vehicle approached him from behind, reportedly striking the rear of Owens pickup.
WGNS is awaiting word from crash scene investigators to learn more about this tragic accident and if any charges are pending.
A GoFundMe page for Owens family has been set-up to help cover medical costs and any unexpected needs that may arise. A goal of $20-thousand has been set. As of Monday night at 10:30PM, the amount raised stood at $17,890. By Tuesday (1/31/23) morning at 6AM, the amount had risen slightly higher to $18,275.
A message on the fundraising page said about Owen's injuries, "He has fractured L2 of the spine, fractured clavicle and bruised lungs. The main concern is his brain. The bleeding and swelling of the brain is stable. The MRI showed the brain injury is shearing of the brain. They said the next 72 hours is a waiting game as the swelling goes down. He is reacting to stimulation on his right side but not on his left. Please continue to pray for Brady!"