BEDFORD COUNTY, TN - Two big arrests took place in recent weeks in neighboring Bedford County, Tennessee. In one of the two cases, a pursuit unfolded and a passenger jumped out of the moving vehicle during the chase. In another case, a little more than a pound of methamphetamine was seized.
On Thursday, the 20th day of April, 2023, Bedford County Sheriff's Deputy T. Boling observed a black Ford Explorer with no taillights driving on College St. He conducted a traffic stop and the driver was identified as Justin M. Anderson, who was requested to exit his vehicle. Instead, the Deputy reported the man immediately put his vehicle in drive and attempted to evade.
During the pursuit that followed, a passenger jumped from the moving vehicle, causing bodily injury. The suspect was given immediate medical aid by supporting officers. That pursuit ended when the vehicle lost control, running off the roadway, striking a tree.
The driver, named as Justin Anderson, was placed under arrest. Upon searching the man, authorities say they found multiple baggies containing methamphetamine inside his pocket. Deputies also reported they located large amounts of drug paraphernalia, small baggies, scales, along with a total of 329 grams of methamphetamine, and a total of 15 grams of marijuana in his possession.
As a result of the traffic stop that reportedly turned into a pursuit, and the drugs allegedly found on Mr. Anderson, he now faces multiple charges. Those charges include Evading arrest, Resisting arrest, False imprisonment, Reckless endangerment, Vandalism, Unlawful possession of firearm by convicted felon, Possession of meth with intent to distribute, Possession of sched. 6 (marijuana), Maintain a Dwelling, Drug Paraphernalia, along with multiple traffic citations.
In Shelbyville, Anderson was booked into the Bedford County Jail under a $283,500 bond. As of Friday, May 5, 2023 - - Anderson remains behind bars after being booked in the early AM hours of Friday, April 21, 2023.
MORE NEWS: In an unrelated Bedford County case, Deputies made another traffic stop in recent days that resulted in more drugs being confiscated. The stop took place on Francis Road near Stones River Road. When Deputies made contact with the driver, Deputies say they immediately noticed scales with a crystal substance and small baggies laying on top of the center console. The Sheriff's Department reported the driver admitted to having 14 grams of methamphetamine in his possession. Upon doing an inventory search, a total of 473 grams of meth was recovered. In case you're doing the math, that adds up to just over a pound of methamphetamine that is worth approximately $47,300. In addition to the meth, Deputies report they also found $1,973 in cash along with drug paraphernalia.
The suspect was charged with Possession of meth, Maintaining a Dwelling, Possession of Drug Paraphernalia, and Manufacture - Sell and Delivery. The total bond for the unnamed suspect was set at $160,000 in Bedford County, TN. See the below photo released by the Bedford Co. Sheriff's Office that shows the items confiscated in the arrest that was made in the second of the two above cases.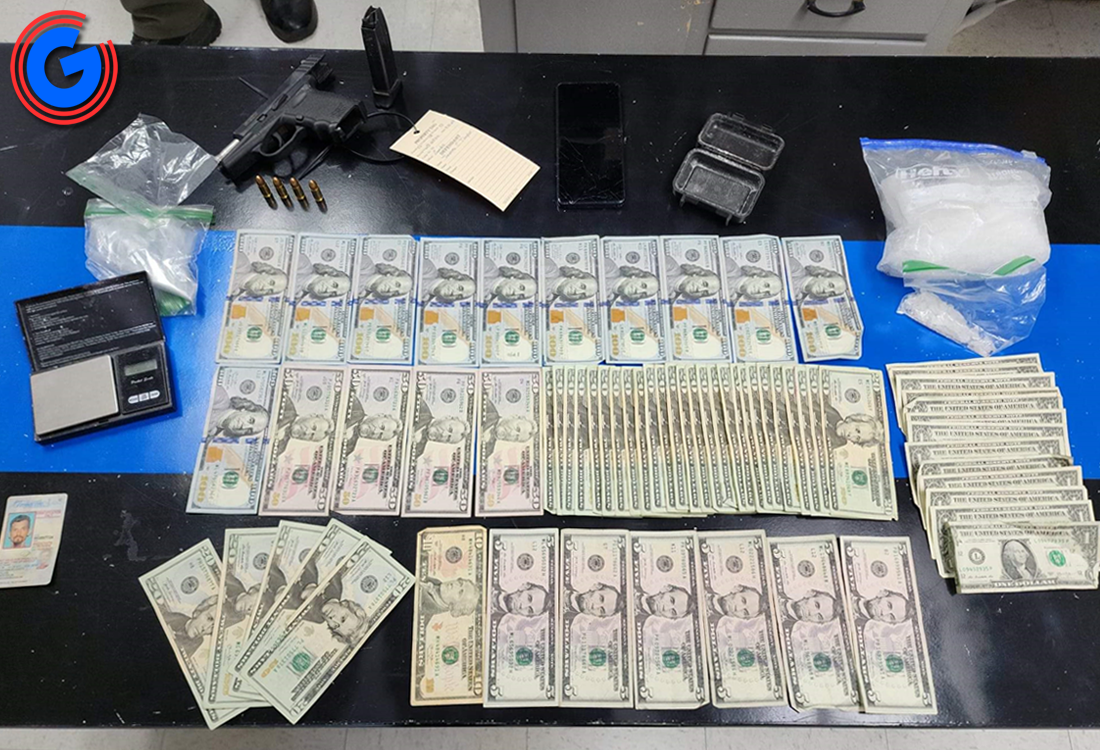 DISCLAIMER: All suspects are presumed innocent until proven guilty in a court of law. The arrest records or information about an arrest that are published or reported on NewsRadio WGNS and www.WGNSradio.com are not an indication of guilt or evidence that an actual crime has been committed.
More WGNS News Articles: