Central Magnet School's team continues its 2,300 mile trek from St. Augustine, Florida to Colorado Springs, Colorado. This is the Tiger's fourth official Great Race. In three previous races, they came in second place in the first race and first place in the last two races in the X Cup Division for high school and college teams.
Team Mechanic Dean Holland with the Stones River Car Club is following the 1953 Pontiac Chieftain with a trailer that's loaded with spare parts. This report is from their stop in Tifton, Georgia...
In this leg of the journey, Jeremy Byrd was the driver with Sean Gurly as the navigator.
Central Magnet School's entry is sponsored by the Stones River Antique Car Club.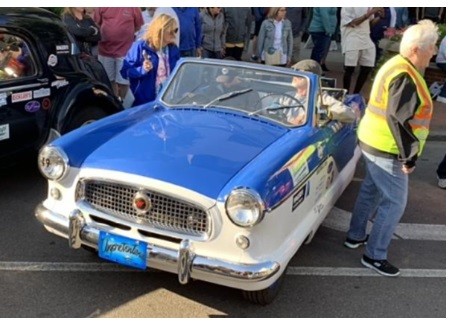 People may keep up with the team's progress with these reports on WGNS or in FaceBook at https://www.facebook.com/StonesRiverCarClubStudents.
Drivers for the Great Race include Matt Norman, a Central Magnet School graduate, and President Jeremy Byrd of the sponsoring Stones River Antique Car Club. Navigators are Annie Holland and Sean Gurley of Central Magnet and Carson Byrd of Siegel Middle School.
There is another local group participating in The Great Race. It's father-son team Kirk Bugg and his son Travis. They are in their 1961 Nash Metropolitan convertible.
From Tifton, GA the race heads to Birmingham, AL for the next stop. The race concludes July 2, 2023 in Colorado Springs, CO.
WGNS sends best wishes to the Central Magnet School team and the Bugg family.
See /hear the previous report from the team - that was recorded in St. Augustine, FL on Friday HERE.