MURFREESBORO, Tenn. – The Murfreesboro Police Department (MPD) Fatal Accident Crash Team (FACT) continues to investigate a fatal crash involving a small pickup and a propane truck. The wreck occurred this past Friday morning. On Monday morning, MPD Public Information Officer Larry Flowers confirmed, "The driver involved in the fatal crash on SE Broad Street on Friday, July 7 is identified as 46-year-old Anthony Cothern." Reports show that Cothern was from Watertown, Tennessee.
Officers responded to the crash on SE Broad Street near Overlook Place around 9:52 a.m. Friday, July 7. According to the preliminary investigation, the driver of the pickup was driving inbound on SE Broad Street and veered into the other lane, colliding with the propane truck. The pickup driver was trapped inside. Murfreesboro Fire and Rescue Department firefighters were able to get the man out of the pickup. Once out, he was quickly transported to the hospital, where he died. His name again is Anthony Cothern and he was 46-years-of-age.
As for the Freightliner truck that was hauling 2,000 gallons of propane, MPD confirmed the driver was not injured in the wreck. The Tennessee Highway Patrol inspected it to make sure there were no propane leaks. The propane was offloaded onto another truck before it could be towed away safely. Again, the propane truck driver was not hurt.
Traffic was re-routed for several hours as FACT investigators investigated the crash. Again, police told WGNS News on Monday morning that their investigation continues by FACT investigators (scroll down to see photo of the pickup truck that crashed into the truck hauling propane).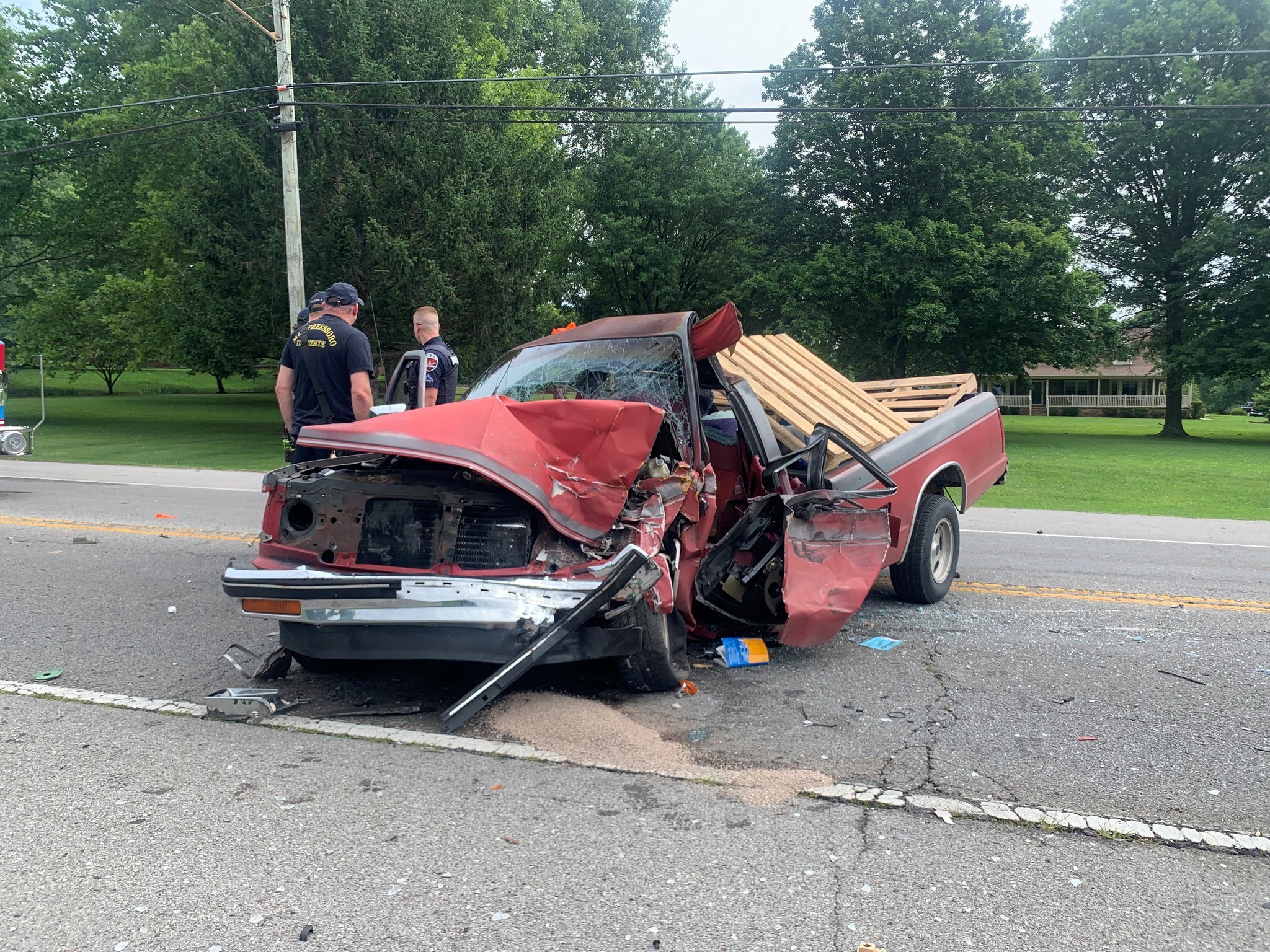 Source: Murfreesboro, TN Police Department - Above Photos from Murfreesboro Police
DISCLAIMER: All suspects are presumed innocent until proven guilty in a court of law. The arrest records or information about an arrest that are published or reported on NewsRadio WGNS and www.WGNSradio.com are not an indication of guilt or evidence that an actual crime has been committed.