(MURFREESBORO) With sunny skies and temperatures around 50-degrees, the Murfreesboro Christmas Parade was a huge success. Emergency vehicles were the first to roll at 2:00 o'clock sharp on Sunday afternoon (12/12/2021).


The parade began at the intersection of Middle Tennessee Boulevard at East Main Street and headed down East Main towards the historic square. The entries then ended on West Main Street at Walnut Street.
The theme of this year's parade was "The Spirit of Christmas!" With the great weather and the pandemic shutting-down last year's parade – the spirit was felt throughout the city with one of the largest parade turnout's ever!
Observers even commented that this was the largest turnout they had ever seen and that spectators thickly lined the roadway from start to finish on both sides of the street.
Best Parade Entries and Awards:Mayor's Club
: Gr8t Chase with their Chase for the Gold entry (#1)
Walking Winner
: Dance Works with a massive dance squad, fully coordinated (#9)
Best Business Entry
: Bullseye Gun with two giant hand made / carved nutcrackers (#11)
Best Church Entry
: North Boulevard Church of Christ with their Toy Story entry(#13)
Best Vehicle Entry
: Nashville Fire-Police Brotherhood with two restored antique vehicles
Best Scout Entry
: Girl Scout Troop 152
Scroll down for more information on the parade, which took place on Sunday (Dec. 12, 2021)...
---
A big Thank You to Lee Ann Walker of WGNS





WGNS' Lee Ann Walker, who became involved in the parade in 1984, said, "There's always been something magic and wonderful about this event, and with everyone feeling a touch of cabin fever, we're expecting a record turn-out. It's advised that you get there early and claim your spot to be a part of this Heart of Tennessee tradition."

After that first year, Walker became parade coordinator the next year, and for the past 36-years has helped to bring happiness to this community. That said, if you include 1984, Walker has been a part of the annual parade for 37-years.

After this year's parade, she has decided to pass the baton to the Murfreesboro Parks and Recreation Department and they have accepted the position after overseeing most of the parade this year.

Walker stressed, "It has been an honor and a thrill being a part of the Christmas Parade, and it has been the results of the love from many groups."

She recalled with a smile, "Memories of the early days of the Murfreesboro Christmas Parade include the late Fayne Haynes. He handled the popular Santa float and stocked it with overflowing baskets of chocolate candy bars. The Stones River Amateur Radio Club has been the instant source of communications between all segments of the parade. These volunteer ham radio operators have added even more community spirit to the event. The Murfreesboro Exchange Club has been there over the decades to help with the parade line-up and then passing out American flags throughout the parade with Exchange's "Give A Kid A Flag To Wave" program. Officers with the Murfreesboro Police Department have been our knights in shining armour. They are there to keep us all safe and do it with a loving Christmas spirit."

Walker added, "State Farm, ATMOS Energy, MTSU where the parade actually lines-up, and more have all been a part of the parade. But especially the entries and the thousands and thousands of residents who have lined Main Street on sunny, snowy, rainy, cold and warm days--that's what these wonderful memories are made of."

The parade starts at the intersection of Middle Tennessee Boulevard and East Main Street, goes down East Main toward the square, around the square and onto West Main, and ends on Walnut Street. Again, the parade starts at 2:00 o'clock this afternoon.

WGNS radio, that celebrates its 75th anniversary in a few weeks, will continue to be active in this annual event.

Click the below photo for MORE parade pictures from this year (2021):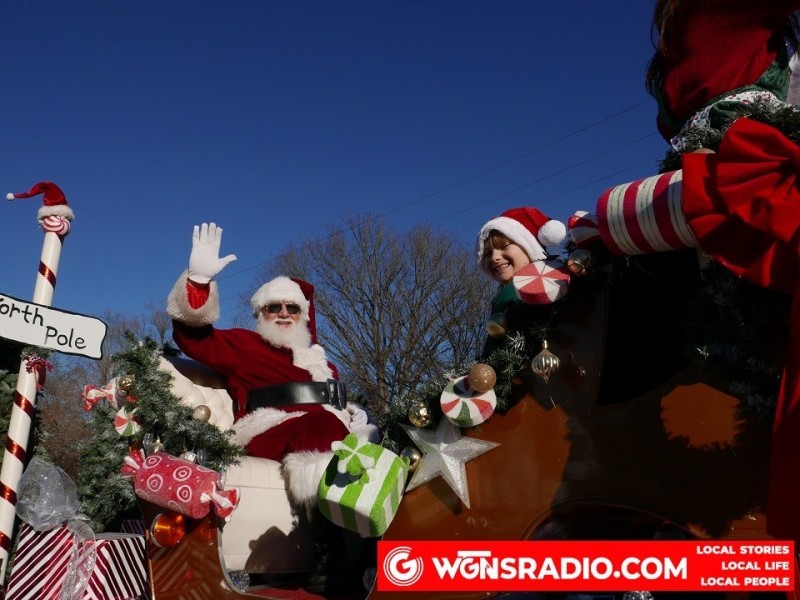 Grand Marshal Bart Gordon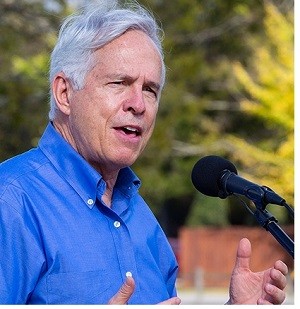 The grand marshal of the 2021 Murfreesboro Christmas Parade is former U.S. Congressman Bart Gordon. In his 25-years representing this area in Washington, he did much to help this area. The Murfreesboro native graduated cum laude from Middle Tennessee State University in 1971 and went on to receive a J.D. degree from the University of Tennessee College of Law.

During his tenure, Gordon was able to get funding for the growing greenway system that allows residents to enjoy the beautiful waterways throughout the area. He did the same for the popular boardwalk system at the Murfree Spring wetlands that is adjacent to the Discovery Center, just a few blocks off the Murfreesboro square.

Congressman Gordon is now a partner in K & L Gates, a global law firm.

Floats, Bands, Santa and more!

Area high school marching bands, emergency vehicles, colorful floats and a variety of entries that offer a mirror of this community will be a part of Murfreesboro's 2021 Christmas Parade.

WGNS has been trying to get a handle on how many Christmas parades there had been before this one?

Walker noted, "We can document 37-previous parades, but how many were there before? Do you remember this annual event in the 50s and 60s as it passed by the James K. Polk Hotel? How about memories of the parade passing our beautiful historic courthouse in the 1940s when WGNS radio began?"
What Is The Earliest Murfreesboro Parade You Remember?

Please CLICK HERE and share your parade memories or email us at news@WGNSradio.com.

Once again, the annual Murfreesboro Christmas Parade begins at 2:00 o'clock this afternoon (12/12/2021). It begins at the intersection of Middle Tennessee Boulevard and East Main Street, goes down East Main to the square, around the square and onto West Main, and ends on Walnut Street. It will be sunny and 50-degrees today. We'll see you at the parade!

THANK YOU Murfreesboro Parks and Recreation Department along with leadership from Nate Williams and Rachel Singer--everyone enjoyed the parade!