Roe Vs. Wade has been overturned, as confirmed by the Supreme Court's decision. When the news hit on Friday (6/24/22) morning, WGNS headed to CBS News...
Republican National Committee (RNC) Chairwoman Ronna McDaniel made this statement on Friday morning... "Life wins! Millions of Americans are celebrating today's ruling and a pro-life movement that has worked tirelessly for decades. For a half century unelected judges have dictated America's abortion laws. This historic ruling rightfully returns power to the American people to enact laws that protect unborn children and support mothers everywhere. As this debate now returns to the states and the American people, we know there is still much work ahead. Republicans will continue to advocate for life, uphold the law, and stand against an extreme Democrat Party's pro-abortion agenda."
With the overturning of Roe Vs. Wade, there is no longer a federal constitutional right to an abortion. The move by the Supreme Court now returns the rights of deciding on what laws to pass in allowing or not allowing abortion has been returned to individual states. To get a better understanding on what this decision means, we head to Stacy Lyn in Washington, D.C. with CBS NEWS...
Shawn Karney, President of 40 Days For Life stated…
Laurie Levenson, a Law Professor at the Loyola Law school said,
Levenson is a Former Federal Prosecutor.
Meanwhile, National Right to Life President Carol Tobiaf suggested…
Nancy Pelosi, The Speaker of the House, commented…
Pelosi, a Democrat, lives in California.
The Tennessee Democratic Party Executive Director Brit Bender told WGNS NEWS in an email, "We are going to keep pushing back against anti-choice representatives and legislation any chance we get. The Tennessee Democratic Party will work to support pro-choice candidates and legislators as well as abortion rights groups in state. We're prepared to fight for the safety and autonomy of Tennesseeans."
Planned Parenthood Executive Director Kelly Robinson stated…
CBS NEWS Correspondent Steven Portnoy reported…
Stacy Dunn, President of Tennessee Right to Life, stated, "This is a victory for democracy. For the first time in almost 50 years, the voters and their elected representatives will have control over this issue rather than unelected judges, and we applaud that," said Dunn. "This decision will allow our Tennessee laws to reflect our Tennessee values that unborn children should be protected by law and that every person deserves the right to be born."
Hendrell Remus, Tennessee Democratic Party Chair said, "This decision is a direct assault on the rights of Tennesseeans. The Court's interpretation of the constitution on this issue is flawed and a direct insertion of political activism on the highest court in the land. This decision made by a conservative majority on the court, will empower a radical majority serving in state legislatures across the country. Politicians will be even more emboldened by this decision to impose their most restrictive views on us. Today, an essential and lifesaving freedom was discarded by a court installed to protect it."

U.S. Senator Marsha Blackburn (R-Tenn.) issued the following statement in response to the Supreme Court ruling on Dobbs v. Jackson Women's Health Organization: "Having worked alongside Tennesseans to protect the innocent lives of unborn children for years, I applaud today's Supreme Court ruling. Despite false claims from the left, this decision will not ban abortion. Instead, it returns the decision to the states and empowers state legislatures with more flexibility to craft policy through the democratic process," said Senator Blackburn. "It is unacceptable that a draft opinion was leaked in advance and that the person responsible has not been caught. The leaker has jeopardized the safety of our justices, and threats of violence by the radical militant mob are unacceptable. We appreciate the brave law enforcement officers working overtime to protect our justices and their families."
Healthy & Free Tennessee released the following statement on Friday (06/24/22): We are enraged but unsurprised at the Supreme Court's decision to overturn Roe v. Wade. This decision will not only force Tennessee clinics to stop providing necessary care, but also push Tennesseans seeking abortion care to travel out of state to receive the care they need. Abortion bans are state-sanctioned violence. With the Supreme Court on their side, anti-abortion politicians will continue to push forward anti-abortion legislation that not only criminalizes providers, but also punishes pregnant people for their pregnancy outcomes. Criminalizing abortion care means more government surveillance, investigation, and control — and we know Black and brown people, disabled people, those who use substances are always more likely to be targeted. No one should be punished or criminalized for their abortion, miscarriage, or any pregnancy outcome.
CBS NEWS Poll on Roe Vs. Wade below: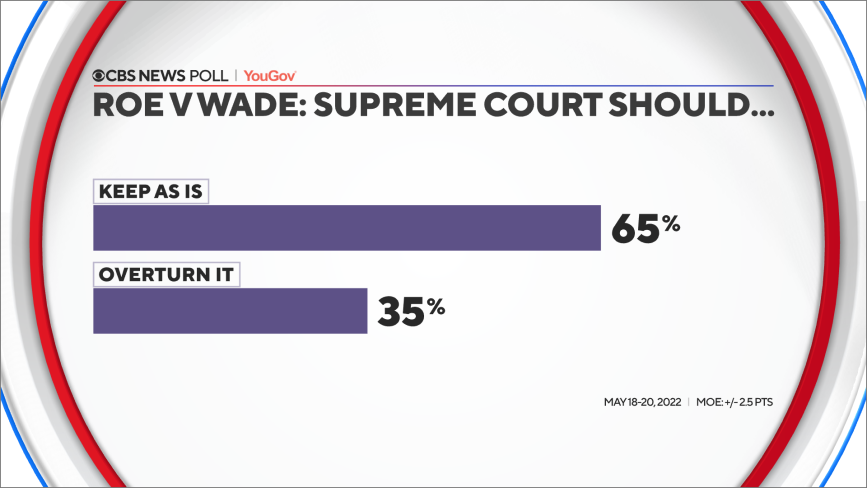 See more of the WGNS Radio Headline News Stories: 1.) FREE Upcoming Event by Barnabas Vision and MTE on how to save money on your electric bills in the current heat 2.) UPDATE: One Arrested in Checkers' Drive-In Shooting Incident on Wednesday 3.) Speed a possible factor in I-24 Accident on Tuesday – See the video footage of what occurred HERE