Murfreesboro, Tenn – Residents and business in the Blackman and Gateway areas of Murfreesboro experienced a power outage today for several hours. At approximately 11:15 a.m., the Middle Tennessee Electric (MTE) Blackman and Gateway Substations lost service from the Tennessee Valley Authority (TVA), affecting nearly 11,000 MTE members. The outage was caused when an unidentified vehicle damaged guy wires, a transmission pole and equipment at the intersection of Tabitha St. and Boyd Dr. in Northwest Murfreesboro before leaving the scene. MTE was immediately in contact with TVA and dispatched crews to the affected substations and to assist TVA.
MTE's crews and technicians rerouted power to the Gateway Substation at approximately noon, which restored power to Ascension St. Thomas Rutherford Hospital and the Murfreesboro Medical Center. TVA's transmission feeds would not allow for rerouting power at the Blackman Substation.
In hopes of restoring service to some members served by the Blackman Substation, MTE rerouted power on its distribution system at approximately 1:25 p.m. Despite these efforts, power was restored to about 2,500 members for only matter of minutes as the ensuing power demand proved too great to hold.
At approximately 2:04 p.m., TVA restored transmission service to MTE, and MTE immediately restored power to all affected members.
TVA passes along its regrets to MTE and its members for the length of the service disruption. If you have information about the vehicle that caused this damage, please contact Murfreesboro Police at (615) 849-2673.
MTE works hard every day to maintain our system and make upgrades that improve reliability, but some outages are unavoidable. When an outage happens, our top priority is restoring power quickly and safely. Team MTE is ready to respond to outages 24/7/365.
PREVIOUSLY REPORTED
- UPDATED at 1:35PM - The Gateway substation is back online, but some areas are still impacted and without power, according to the MTE outage map.

Over 10,000 Middle Tennessee Electric customers in west Murfreesboro were at one point without power. The outage was reported just after 11am this (Friday) morning.
MTE spokesperson Amy Byers says the outage was caused by a traffic accident at a TVA utility pole made of steel.
Byers told WGNS NEWS that a vehicle hit the guy line of a steel utility pole known as an angle pole, in the area of Florence Road, near I-840 and I-24. When the vehicle hit the guy line it caused the line that was under tension to fling back into the steel pole. This equaled damge to the line, which had to be repaired by the TVA.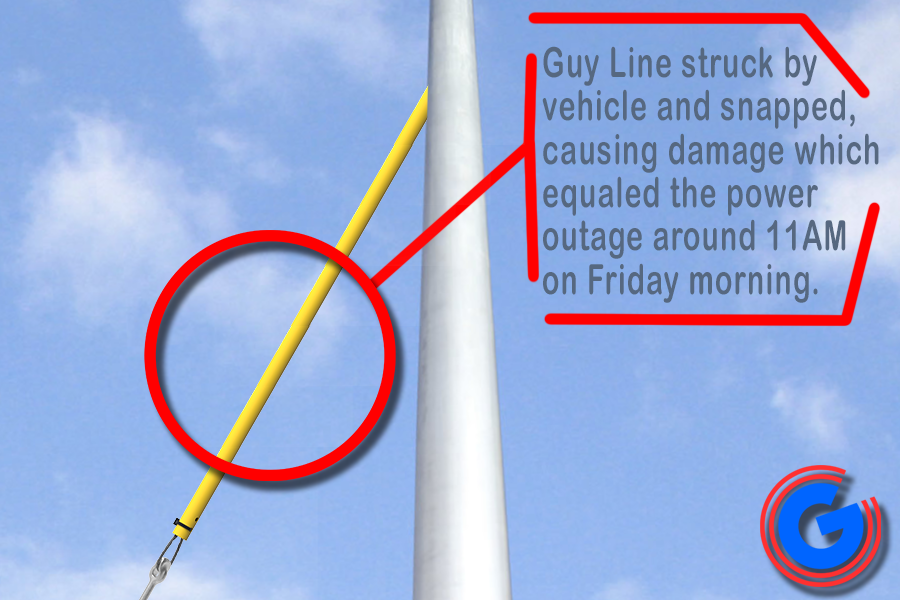 The accident caused power to be cut that went to the MTE substations in the Blackman and Gateway area.

Since the accident unfolded around 11AM on Friday, crews from the TVA and Middle Tennessee Electric have worked to fix and restore the electrical feeds that supply the Gateway substation, which is back online now. The power feeding the Blackman area is still being repaired.

Ascension Saint Thomas Rutherford Hospital and Murfreesboro Medical Clinic are among those that were without electricity. Power has since been restored to both medical facilities.

Traffic lights in those areas were also disrupted, but all major intersections across the city have since been restored.

Previous to restoration, Murfreesboro Traffic Engineer Ram Balachandran says the outage along Old Fort Pkwy and Medical Center Pkwy. have left several traffic signals out along these two corridors. MPD is assisting with traffic. Signal will be back to normal operations once power is restored.
SCOTT WALKER TALKED TO MTE'S AMY BYERS ABOUT THE OUTAGE