Middle Tennessee - For Middle Tennesseans who had a catalytic converter cut off their vehicle in the past few months, authorities in nearby Music City have closed in on a business suspected of buying the stolen converters and other scrap metal.
In Nashville, a three-month investigation by Metro Detectives focused on All Star Recycling, where police say the business knowingly bought or sold stolen scrap metal, including catalytic converters, copper wire, and even shopping carts. The investigation resulted in the arrest of manager Ying Bin Chen, age 52. Police reported that Chen's sister, 48-year-old Annie Chen is the business owner. She too was interviewed this week, but no charges have been placed against her at this time. The investigation, led by Metro Detective Jonathan Shepherd, is ongoing.
The investigation originally began after Madison Precinct and Berry Hill Police detectives notified Metro Nashville Police Department's Fraud Unit about separate cases involving the alleged fencing of stolen wire linked to the scrap yard. The investigation ultimately led to detectives seizing approximately $250-thousand worth of items from All Star Recycling.
Metro Police Chief John Drake said, "From construction sites to Nashville Electric Service substations and retail/grocery stores to personal vehicles, today's investigation should greatly reduce the market for stolen wire and catalytic converters."
In looking at past police reports from the Rutherford County area, catalytic converter thefts have not been significant for several years. The exhaust parts that contain a small amount of precious metals, climbed greatly between 2008 and 2016. For Murfreesboro, those numbers spiked to their highest point 11-years-ago when in one case - a total of 9-catalytic converters were stolen from the 9-different vehicles in the same parking. The theft happened on the night of October 30, 2012. The converter thieves hit the local U-Haul store at the intersection of Memorial Boulevard and East Clark Boulevard in the Murfreesboro.
As for the Nashville case that landed Ying Bin Chen behind bars on Monday, he's being charged with conspiracy to commit theft of property (04/17/23). Chen is currently free after posting a $5,000 bond (Photo of Ying Bin Chen Below from Metro Nashville PD).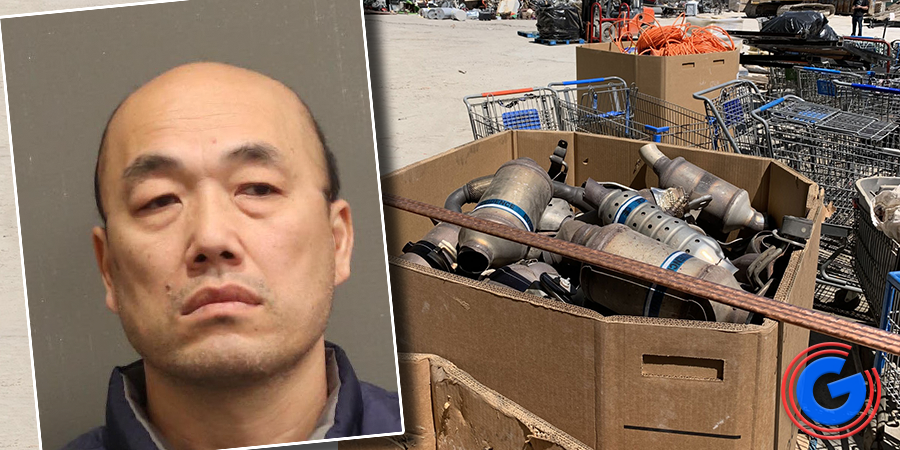 DISCLAIMER: All suspects are presumed innocent until proven guilty in a court of law. The arrest records or information about an arrest that are published or reported on NewsRadio WGNS and www.WGNSradio.com are not an indication of guilt or evidence that an actual crime has been committed.
Additional WGNS News Headlines: