Rutherford / Cannon County, TN – WGNS has an update from FEMA and the Small Business Administration about assistance that is available for home and business owners that suffered any damage caused by storms on March 31 and April 1, 2023.
If you filed an application for assistance with FEMA to receive financial help, they'll send a FEMA Home Inspector to your property. Media Relations Specialist Kim Keblish said to make sure you verify the inspector is with FEMA...
The FEMA representative may ask to see your ID for proof of residency or proof of homeownership.
Some homeowners may need to obtain a loan to make repairs to their property, as a result of damage caused by the storms on March 31 and April 1 of this year. WGNS has confirmed that the Small Business Administration (SBA) is authorized to help with long term loans of up to $200-thousand in both Rutherford and Cannon Counties. Yabsira Adera with the SBA told us the interest rate for homeowners is under 3%...
The SBA can also provide loans of up to $40-thousand for personal property, which helps to cover both furniture and vehicle loses that insurance will not cover.
In addition to the low interest loan rate, there is a secondary perk to receiving an SBA loan. That perk comes in the form of a 12-month 0% interest deferment program. Adera explained...
The loans for homeowners are as long as 30-years for those who qualify.
The SBA also offers mitigation loans that allow for homeowners to rebuild their structure to better standards...
The deadline to apply for assistance from FEMA and / or for an SBA loan for homeowners or renters is June 6, 2023.
For business owners, the SBA provides loans of up to $2-million for real estate damage. The interest rate on business related loans is less than 4.5%...
Businesses that have been hit by economic injury during the time-period of the storm are also eligable for special low interest loans. Business owners have until January 8, 2024 to apply.
In order to receive approval on a loan, you have to meet certain requirements...
The disaster number to put on any applicatrion through FEMA is DR-4701.
How / Where to Apply for Assistance: You can apply for an SBA loan or for help from FEMA online through the FEMA and / or SBA websites - or you can visit the Rutherford County Courthouse where SBA officials are temporarily stationed. The SBA has also set up an office in the same building as FEMA officials in Woodbury at the East Side Elementary School at 5658 McMinville HWY.
Again, to apply for FEMA assistance if damage was caused to your home during the storms that hit Rutherford and Cannon Counties on March 31, 2023 or April 1, 2023, you can visit the disaster recovery center in Cannon County. You can receive in-person support from a FEMA specialist or from a SBA specialist. The SBA officials can help you in-person at East Side Elementary School in Woodbury (5658 McMinville HWY in Woodbury.) They are open Mon. - Sat. From 7AM to 7PM and Sunday from 1PM to 7PM.
There is also a temporary disaster recovery center in Macon County, TN. It is at the 911Call Center (898 TB-52 Scenic Route in Laveyette, TN).Because it is a temporary center, it is only open now through Sunday, April 30th. On Friday or Saturday, it is open from 8AM to 7PM and on Sunday from 1PM to 4PM.
FRAUD: If you suspect fraud from someone impersonating a FEMA worker, call the FEMA Disaster Fraud Hotline at 866-720-5721. FEMA suggests, you should also contact local law enforcement.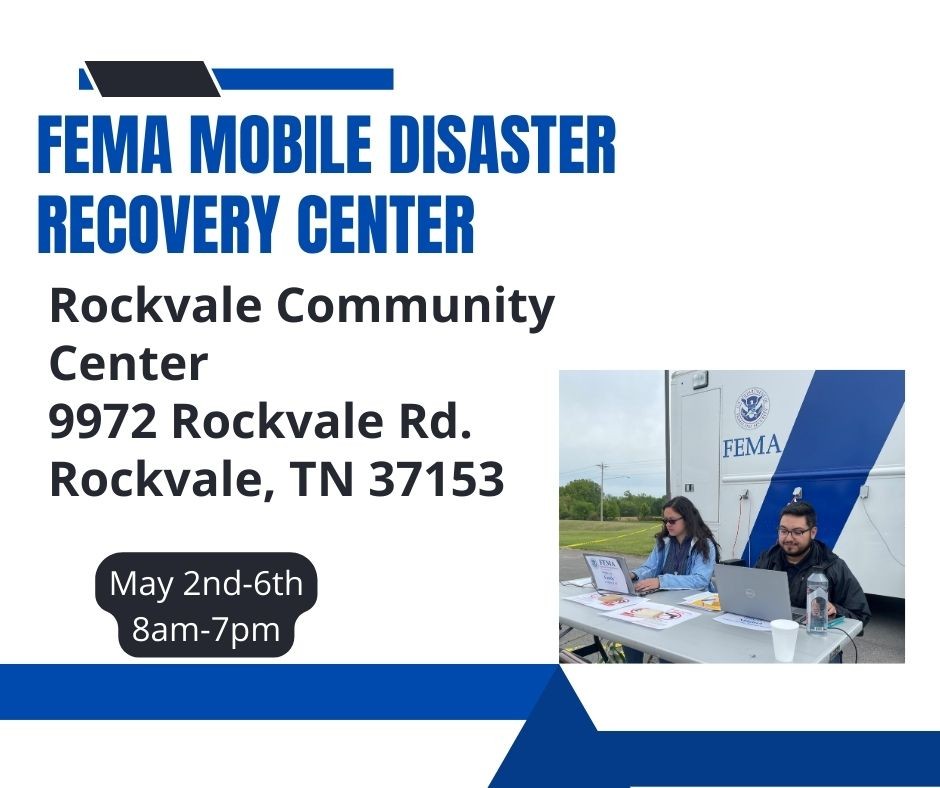 Popular WGNS News Article Headlines:

More News from FEMA - Debris Removal: Debris removal from private property is the responsibility of property owners and is usually ineligible for reimbursement under FEMA's Public Assistance Program. Sometimes, FEMA may determine that debris removal from private property is eligible for program funding. But there are factors that affect that decision. Those factors are based on the severity of the disaster and whether debris on private property is so widespread that it threatens public health and safety or the economic recovery of the community. In such cases, FEMA works with state and local governments to designate specific areas where debris removal from private property is eligible for funding. In those cases, debris removal must be in the public interest, not merely benefiting an individual or a limited group of individuals.
Removing debris can be a challenging job for residents, business owners and governments. Owners may remove debris themselves or get help from insurance settlements and/or assistance from citizen volunteers, the private sector and voluntary organizations. Often, local or state governments dispose of disaster-related debris that private property owners place at the curb for pickup on a scheduled date.
Tips for cleaning up debris on private property (Below)
Stay safe. Wear protective gear such as gloves and masks when handling debris. Contact your local emergency manager if your property is littered with storm-related debris that poses a threat to public health or safety and must be removed. Emergency managers know which government agency to contact about having hazardous debris removed. As you clear debris, look carefully for any visible cables. If you see any cables, wait for professionals to handle them.
Toxic substances. If you suspect the debris contains dangerous ingredients, seal them in plastic bags to prevent them from becoming airborne. Never burn debris; it can be toxic.
Contact your insurance company early to file a claim. Photograph/videotape the damage and debris and keep all receipts for the work performed.
Check with local officials before placing debris for collection to determine where and when pickups will be conducted.
Separate debris into six categories when disposing along the curb:

Electronics (such as televisions, computers, phones)
Large appliances (such as refrigerators, washers, dryers, stoves or dishwashers. Be sure to seal or secure the doors so they are not accessible)
Vegetative debris (such as tree branches, leaves or plants)
Construction debris (such as drywall, lumber, carpet or furniture)
Household garbage, discarded food, paper or packaging

Place debris away from trees, poles or structures including fire hydrants and meters.
Don't block the roadway with debris.
For the latest information on Tennessee's recovery from the severe storms, straight-line winds and tornadoes, visit FEMA.gov/Disaster/4701. You may also follow TN.gov/TEMA; Twitter.com/TEMA, Facebook.com/TNDisasterInfo, @FEMARegion4/Twitter and Facebook.com/FEMA.