UPDATED (Above photos from Hendersonville and Madison, TN areas): Tennessee Gov. Bill Lee is requesting federal emergency assistance today for nine counties impacted in the tornado outbreak that began in the state the evening of Fri, Dec. 10, 2021, and would eventually claim four lives when it was finally over on Sat. Dec. 11.


"Our emergency officials, first responders, and law enforcement brought hope where there was none in the aftermath of these storms," Gov. Lee said. "Our effort now will be to bring as much relief as possible to these devastated communities."
Gov. Lee is asking President Joe Biden for an emergency declaration to make federal assistance available to Cheatham, Decatur, Dickson, Dyer, Gibson, Lake, Obion, Stewart, and Weakley counties for debris removal and emergency protective measures.
If the emergency declaration is granted, the Federal Emergency Management Agency will reimburse jurisdictions for eligible work or provide direct operational assistance.
Gov. Lee indicates Tennessee will seek a Major Disaster Declaration for qualifying jurisdictions after local officials are able to complete a thorough assessment of storm damage to make FEMA's Public Assistance and Individual Assistance programs available to the declared counties that qualify for federal help.
Tennessee experienced two lines of severe weather beginning Friday evening and into Saturday morning as a mass of warm, unstable air moved across the state. The storms produced at least seven tornadoes across west and middle Tennessee, claimed four lives in the state, and left more than 150,000 people without power at the severe weather's peak.
The Tennessee Emergency Management Agency has made a
recovery web page
available in an effort to help storm survivors find resources and support.
Scroll down for more information on the destruction caused by the storms this past weekend in Tennessee and Kentucky...
---
TENNESSEE Storms on Dec. 10th and 11th

The National Weather Service confirmed that 9-tornadoes touched down in Tennessee over the weekend.
Dickson County: EF2 Tornado Reached 135 mph and an EF1 Tornado Reached 110mph
Cheatham County: EF2 Tornado Reached 125mph
Davidson / Sumner / Wilson Counties: EF1 Tornado Reached 95mph
Perry / Hickman Counties: EF1 Tornado Reached 100mph EF0 Tornado Reached 85mph
Stewart County: EF2 Tornado Reached 125mph
Smith County: EF0 Tornado Reached 80mph
In Hendersonville, TN

One area hit by tornadoes in Middle Tennessee included Hendersonville, where high winds and a tornado knocked over trees and power lines. Some of those trees fell onto homes and vehicles throughout the city.

One homeowner told WGNS...




Peggy Dabbs in Hendersonville, TN described what she heard...




Hendersonville resident Bobby Shinault stated...




Steve Rigley with Music City Roofers told WGNS...




We spoke to a father of two who said he and his wife purchased their home a little over a year ago because it had a basement....




Jessie Barton said that his family got good use out of the basement in theirSumner County, TN home...




In Madison, Tennessee, the Nashville National Cemetery that dates back to 1866, was damaged by the tornado that swept through early Saturday morning (December 11, 2021). Uprooted trees caused several headstones to be moved or pushed over.

The cemetery has over 64-acres and at last count, over 34,000 Veterans and their family members are buried on the property.

Less than a mile from the Veterans cemetery, contractors had left a slew of construction materials outside prior to the storm hitting. Foam insulation that was going to be installed at Chippington Towers on Berkley Drive was swept away during the storms. The thick sheets of foam were blown throughout the surrounding neighborhood.

No serious injures or deaths were reported in Middle Tennessee.

West Tennessee Area

In West Tennessee, the Tennessee Emergency Management Agency reported that 4-people died as a result of the storms on Friday night and early Saturday morning. Two of the deaths were in Lake County, one in Obion County and a fourth in Shelby County.

Scroll down for information and soundbites of residents in Mayfield, Kentucky...
---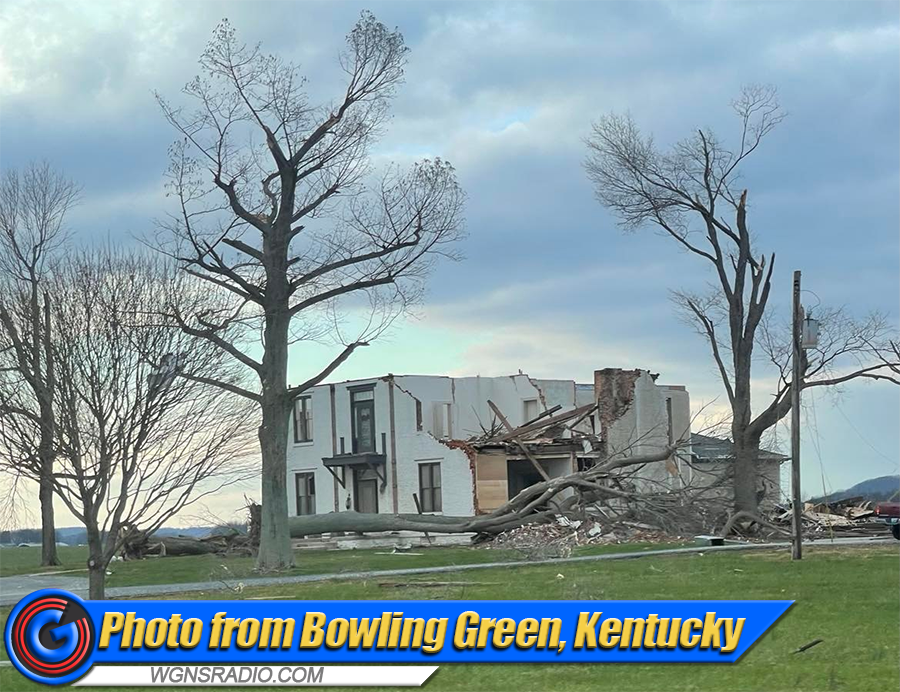 KENTUCKY Damage and Destruction

A total of 64-deaths have been confirmed in Kentucky (above photo from Bowling Green, KY area), after the deadly storms and tornadoes went through multiple areas of Tennessee and Kentucky. As of Monday afternoon in Kentucky, 105 people were still unaccounted for.

Kentucky:

- 64-People confirmed dead
- 105-People unaccounted for

Ages of the deceased:

- Range from 5-months-old to 86-years-old
- 18-Human remains are unidentified

Mayfield, Kentucky homeowner Rick Foley, which was the most devastated area, described what he heard as the tornado neared...




Throughout Kentucky, over 1,000 homes were completely destroyed.

Kentucky counties saw EF2 tornadoes that reached speeds of 115mph and EF3 tornadoes that reached 140mph. The National Weather Service is still working on data to further classify the tornadoes that hit that area.

Brittany Sullivan, a business owner in Mayfield said...




Sullivan went on to say that the area looks like a war zone...




Over 300-members of the National Guard are currently searching through debris for more victims of the tornado that swept through the areas of Bowling Green and Mayfield, Kentucky.