WGNS spoke to several candidates on Election Night in Rutherford County. WGNS' Bart Walker and Bryan Barrett covered the event on Thursday evening "LIVE." In this first segment, Walker had a chance to meet with District 14 State Senator Shane Reeves of Murfreesboro who was not up for reelection during this year, as the only senate seat voters could cast their ballot on was the District 13 seat held by Senator Dawn White. Walker also spoke with Rutherford County Circuit Court Clerk Melissa Harrell, the incumbent who was unopposed in the race (10-Min. Interview)…
August 4th marked the end of the Primary race for candidates vying for both state and federal seats, which means those who won in this round of the process, will be back to face off in the November 8th General Election. Governor Bill Lee, the only name on the Republican side, had 17,074 votes in Rutherford County. Meanwhile, Democrats had several choices in the primary and in Rutherford County, local residents voted for Jason Brantley Martin over Democrat Carnita Faye Atwater by 785 votes.
Statewide results in the Governor's race show that Incumbent Governor Bill Lee received 494,195 votes on the Republican ticket, while Jason Brantley Martin won for the Democrats with 101,221 votes, just 1,468 votes over JB Smiley, Jr.
While statewide results showed that JB Smiley Jr. came in second for the Democrats, locally that was not the case. In Rutherford County, Smiley was ranked at number 3 on the list, 1,755 votes behind Martin. But again, statewide results proved Smiley to be only 1,468 votes behind Martin.
Early voting for the State and Federal 'General Election' will take place between October 3rd and November 3rd, with Election Day on November 8, 2022. See more on the election results HERE.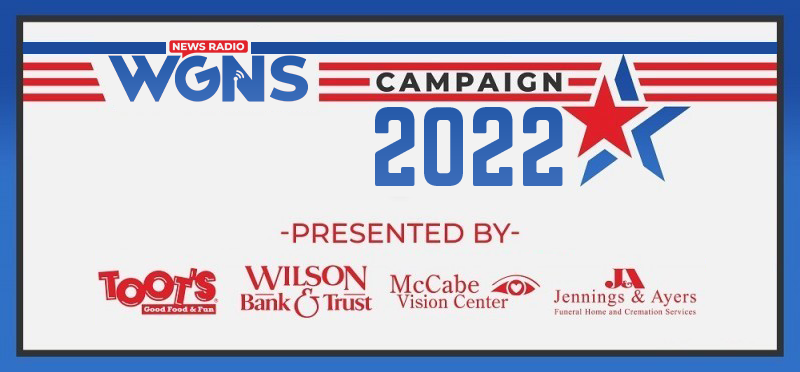 WGNS NEWS Headlines Below
1.) Rutherford County Schools are one of the Fastest Growing Districts in TN (Hear and more)
2.) Greenway Trail Extension Underway and Disc Golf Proves Popular in Murfreesboro
3.) Indictment Confirmed in ATF Case Involving 37-Stolen Firearms and a Truck in Rutherford County
4.) Rutherford County Opens Military Veterans Service Center to Help Veterans with Benefits and More
5.) Two Life Sentences in a Christiana Murder Case – One Suspect Awaiting Trial Set for January
6.) Car Burglaries, Vehicle Thefts and People Leaving Unsecured Firearms in Unlocked Cars in the 'Boro
7.) $15-Million Grant Awarded - Will Help Middle TN with Technology Jobs and More
8.) Smyrna Has the Lowest Unemployment in Rutherford County – Beating LaVergne and Murfreesboro
9.) Murfreesboro Police and their Response to Mental Health Crisis Situations
10.) Rechargeable Scooters and 4-Wheeler allegedly Shoplifted from Local Walmart Store